With only hours until The Bachelorette Australia finale, Ali Oetjen's ex Grant Kemp is spilling the beans on Ali's alleged cheating scandal.
To refresh your memory, Ali and Grant got together on Bachelor in Paradise, and briefly went long-distance, before having a very ~dramatic~ breakup.
Grant previously revealed that he dumped Ali after finding her cheating on him at a house party in LA. The incident in question reportedly took place on a staircase with one of Grant's mates, following a disagreement between the couple.
Far from keeping the whole incident just between Ai and himself, now (with some oddly suspicious timing) Grant's gone into extreme detail about what exactly went down that night.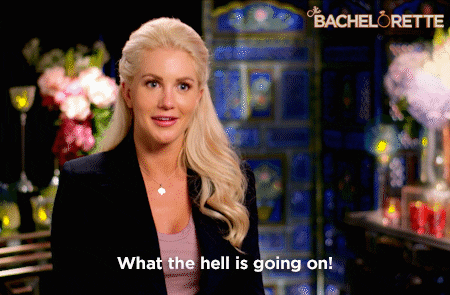 "This is what was happening right? I told her flat out, I'm not one of those people where I'm dating you I'm going to be all over you in the club. I don't need to be holding your hand every five seconds," Grant tells The Daily Mail.
Yup, a true romantic, guys. Find me one gal who isn't going to take that 'why're you so damn needy?!' subtext the wrong way. He goes on to say that Ali then started ignoring him – huge shock there – before the 'incident' happened:
"She was flirting with all of my other friends, all night and not even really talking to me" he continues. "It's not like we were holding hands when we walked into the house and then she was getting [oral sex] five minutes later."
WOW, okay then. But wait, he's not done:
"We weren't in a good place before it happened but at the same time we definitely weren't in a bad enough place for something that disrespectful," he adds.
Ali still hasn't commented on the cheating accusations. Maybe they're true, maybe they're not. WHO KNOWS?
Since their split, Ali's been pretty damn busy filming The Bachelorette, which means responding to her ex's allegations is probs pretty low on her priority list.
Whatever happened, the timing of Grant's new comments, just hours before the finale, is also more than a little suss. Like, we know what you're doing, mate.
Image: Network Ten