Good news, Gogglebox fans, your fave couch potatoes are returning to review the batshit shows on telly v. soon.
The Channel Ten series revealed that season 10 is expected to drop on August 14 on the Lifestyle channel and on August 15 on regular telly.
"Pop the (champagne emoji) because we're back!" The post reads. "Reserve your spot on the (couch emoji) Wednesday, August 14 at 7.30 on @lifestyleau and Thursday, August 15 at 8.30 on @channel10au."
Your fave spicy TV critics are back including Greek besties Anastasia and Faye, married couple Lee and Keith, the gorgeous Jackson fam, the cricket-loving Delpechitra Family, best buds Adam and Symon, art dealers Mick and Di, the lovely Dalton fam, married couple Matty and Sarah Marie and their friend Jad, bro and sis Tim and Leanne and the three gens of the Silbery fam.
Meanwhile ex Gogglebox star Angie Kent is set to return to the small screen as The Bachelorette later this year after Matt Agnew's season of science Bachelor ends.
2019 is shaping up to be an ace year in Aussie reality television, I reckon.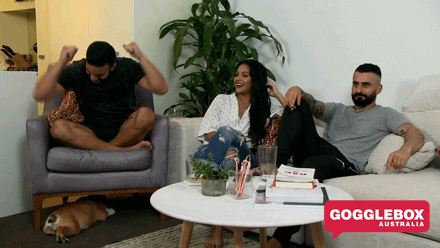 Image: Channel 10