US sitcom Fresh Off The Boat was officially cancelled today, and the internet, shady as ever, wasted absolutely no time in congratulating Constance Wu on the news.
In case you somehow forgot, the star made headlines last year when she reacted to the news that her show had been renewed with anger and disbelief.
She even commented "dislike" on an Instagram post about the show getting picked up for a sixth season.
Wu later clarified her outburst in a statement, saying that while she was proud to be a part of the comedy, its renewal got in the way of another project that would have challenged her as an artist.
These words are my truth. I hope you hear them pic.twitter.com/l6SvbFcUlj

— Constance Wu (@ConstanceWu) May 11, 2019
With the news today of Fresh Off The Boat's cancellation, Constance Wu began trending, as everyone rushed to come up with the hottest take on the situation:
Congrats to Constance Wu. Apologies to everyone else on this fun show. https://t.co/5HoEMZOCXq

— Jack Moore (@JackPMoore) November 8, 2019
Constance Wu getting the news that "Fresh Off the Boat" was canceled pic.twitter.com/DZYXxHdwBO

— Dewayne Perkins (@DewaynePerkins) November 8, 2019
constance wu pretending to be sad that FOTB is over pic.twitter.com/PecrY1Jisy

— J Thee Lo (@missunitedface) November 8, 2019
Katherine Heigl seeing Constance Wu at Whole Foods later today.
pic.twitter.com/WM7Wp7nMNV

— sam greisman (@SAMGREIS) November 8, 2019
congrats to constance wu

— sonia_saraiya (@soniasaraiya) November 8, 2019
Constance Wu, who starred in Crazy Rich Asians and this year's excellent Hustlers, will next voice a character in the animated film Wish Dragon. 
She has not yet made a public comment on Fresh Off The Boat coming to an end.
He co-star Randall Park, however, posted a lengthy statement to Instagram, praising the "groundbreaking" series as "a really great show made by incredibly talented people."
He thanked the cast of the show, but did not single out or tag Wu. We're sure that doesn't mean anything, though, and we won't read anything into it.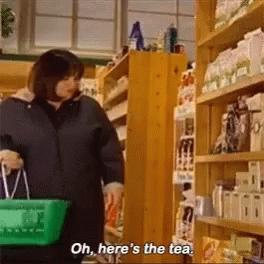 Image: Getty Images / Michael Tran