Oooft: Nothing like a bit of homegrown tea to get us through the last day before the weekend. My Kitchen Rules judge Colin Fassnidge has rinsed The Voice judge Delta Goodrem during his appearance on a podcast because he's one salty devil.
"I like The Voice, but Delta Goodrem winds me up," Colin told host Jana Hocking on her podcast Sex Love Magic.
"My kids love her and she's probably a good role model, (but) she just winds me up!"
He went on to recount being forced (?) to pose for a photo with the Aussie singer while at television's night of nights, The Logie Awards last year.
"They put me sitting in front of her at the Logies the last time and she's behind me, and the photo of me with Delta. I was making a face," he said.
Colin chuckled and added that his wife criticised him for his poor form.
"My Missus said to me, 'You realise you're representing your company?'"
He concludes the rant, "I have no interest in Delta Goodrem, but I like The Voice. I think it's a good show."
Righto mate, righto.
Sadly, the cranky chef isn't the only Aussie who despises the 'Innocent Eyes' singer.
Following her addition to the Aussie rendition of the international singing series, loads of punters have taken issue with her enthusiasm and over-the-top stage antics but if you ask me, she's copped a whole lot of unwarranted hate.
Is she really that bad, people?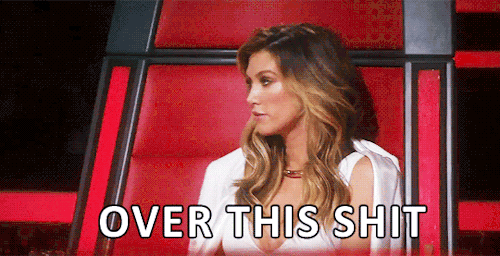 Never mind the neggo nancies, Delts.
You keep doing you, I say.
Image: Getty Images