It's so vindicating when your long-held thirst is finally recognised, and accepted, by wider society. Since high school, I've had a slightly problematic, very Daddy Issues crush on Law & Order: SVU's Detective Elliot Stabler (Chris Meloni). To be perfectly honest with you, this thirst was raging well before calling people daddy, or even zaddy, was morally acceptable. And now, much to my delight, Chris Meloni is everyone's daddy. If you don't believe me, you need to drop everything and look at these new pics from Interview magazine.
In the wake of his thicc peachy ass breaking the internet two months ago, when pics of his shapely derriere victimising a pair of sensible slacks went viral, Chris Meloni has absolutely leaned into the horned-up hype surrounding him by posing for a series of thirst trap pics for the Summer 2021 issue of Interview. The Law & Order: Organised Crime star also, er, did an interview, but to be honest I barely glanced at that because THESE PICS.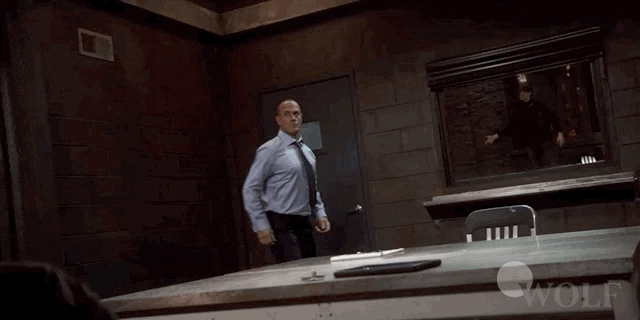 Here's a tantalising taste of what the geniuses at Interview captured — seriously, give photographer Clifton Mooney the Pulitzer prize now, because nothing else captured on film in 2021 is even going to come close to this distinguished example of feature photography. Not now, not ever.
It's just… I can't. This man knows exactly what he's doing. And so does the official Law & Order Twitter account, tbh.
Choose your fighter. ???????? Check out @chris_meloni in @interviewmag's Summer issue: https://t.co/Zrga11hg4t

????: @Gauchecowboy for @InterviewMag pic.twitter.com/BmnED6t8Mz

— ???????????? & ???????????????????? (@lawandordertv) June 9, 2021
Elsewhere on Twitter, everyone has sunk to depraved levels of overt horniness for 60-year-old Chris Meloni. No one is hiding it. This shoot has given us all the permission to be free.
there has never been a hotter photo shoot of chris meloni not EVER pic.twitter.com/QS1RTjQ5M9

— mol (@danaIewis) June 9, 2021
Thank you @InterviewMag for this photo of @Chris_Meloni's wagon ???? pic.twitter.com/4OvfHonerD

— Cocolo Minaj (@evilrashida) June 9, 2021
chris meloni has to have some 30 year old nephews somewhere because this is ridiculous.. I'd risk it all. ???? pic.twitter.com/6eJSa4ZdsH

— the world (@nikkiolive4) June 9, 2021
chris meloni…lord have mercy i'm bout to BUST pic.twitter.com/6xhuyrBZ7r

— ????????????????????. (@charhorowitz) June 9, 2021
whatever you want @Chris_Meloni pic.twitter.com/xgYnVZQlxS

— datev???? (@eosupremacy_) June 9, 2021
Not me sending my husband thirst trap photos of @Chris_Meloni ????

— Jen (@DirosaJennifer) June 9, 2021
I hope @Chris_Meloni knows I'm sending this to my bosses and blaming him for my productivity going to absofuckinglutely ZERO for the rest of the day. ???? #zaddy pic.twitter.com/mZ7PUApQbC

— c✨????‍☠️ (@EvermoreEO) June 9, 2021
But for me, nothing sums it up like this tweet:
CHRIS MELONI IN A CROP TOP AND GREY SWEATS IM GOING ABSOLUTELY FERAL pic.twitter.com/KUJfXQaVsd

— kaity (@heymilIer) June 9, 2021
Pretty much!
You can find all the pics (yes, there's heaps!) over at Interview here, and also get Chris Meloni's thoughts on some of the big issues, which he ponders in the chat. Like, how does one's ass become so thicc?
"This is what has happened. I've been blessed with glutes that have an attractive shape," he admits. "But I have a trainer, and we're going through bodybuilding phases, and where everyone kind of caught me was that I'd been preparing for one year in a very high-intensity weight training program that actually focused on legs." Uh huh. "Legs". Whatever you say, Chris.
He also touches on his zaddy reputation, which of course he's completely chill with. "I've been called that a lot, and who am I to argue with it? Sure, I'm a zaddy." YES. YES YOU ARE.
Now if you'll excuse me, I'll be here counting down the days until June 20, when the hard copy of the magazine comes out and my house will suddenly be wallpapered with images of Chris Meloni in a midriff top. It's been a long time coming.
Image: Interview Magazine / Clifton Mooney