Sharpen your stake, slayer, 'coz quintessential '90s/'00s supernatural drama Buffy The Vampire Slayer has just arrived on Stan.
The local streaming lords today announced that all seven seasons of the iconic series are available to stream right now and you can bet your vampiric butt that I'll be parked on the couch all weekend, getting reacquainted with our girl, Buff.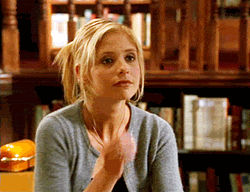 Sarah Michelle Gellar plays the gritty but gorgeous teen who discovers she's the Chosen One, destined to save the world from various evil forces.
Created by the legendary Joss Whedon, the series premiered way back in 1997 and ended in 2003, making it one of many glorious series to exist in the 1900s and 2000s.
Buffy wasn't alone in her vampire slaying, she had a whole crew of teen mates and one gallant teacher who helped her along the way, forming a group known as the Scooby Gang.
Her pals included Xander (Nicholas Brendon), Willow (Alyson Hannigan), Giles (Anthony Stewart Head), Cordelia (Charisma Carpenter) and more.
Then, of course, we have our vamps including Spike and Angel, played by James Marsters and David Boreanaz, respectively.
The series was so successful that following its seven season run, a spinoff called Angel came to be.
Buffy sadly sat the spinoff out but OG characters Angel (obvs), Cordelia and Spike return.
Buffy summoned a heap of awards and nominations throughout its run including an Emmy Award nomination for the 1999 episode "Hush", a Golden Globe-nomination for Sarah for Best Actress in a TV Series-Drama for her role in the show, as well nominations for the Teen Choice Awards and the Saturn Award for Best Genre TV Actress. The series also won the Drama Category for Television's Most Memorable Moment at the 60th Primetime Emmy Awards for "The Gift".
Catch it on Stan RN.