There's nothing that infuriates me more than seeing TV shows with brilliant concepts, genius writing and a stellar cast get axed while reboot after reboot and reality show after reality show is dropping every five mins.
But alas, that's showbiz, bb.
With the current decade winding down, we've taken a look back at all the TV shows from the past 10 years that were axed way before their time.
Sense8 (2015 – 2017; 2018)
Seasons: 2
Why did people love it? The series was praised not just for its gripping sci-fi storyline, but for its excellent LGBTQIA+ representation. It was a hit with both critics and fans, scoring an 87% critical approval rating.
It had a profound impact on viewers, with even the former Colombian President and 2016 Nobel Peace Prize recipient Juan Manuel Santos referencing the show in a speech he made in April 2019 during the graduation ceremony of students of the University of Los Andes.
Why TF was it canned? In 2017, Netflix announced that they were cancelling the series, stating that the audience, despite being v. passionate, wasn't large enough to warrant the hefty production costs.
Following online backlash and several petitions, Netflix confirmed that they were creating a two-hour special to serve as a finale, of sorts, for the fans.
Better than nothin', I 'spose.
UnReal (2015 – 2018)
Seasons: 4
Why did people love it? In an era where The Bachelor and all its spinoffs are dominating the airwaves, here was a show that not only took the piss out of reality dating shows, but exposed the shady dealings that most likely go down behind-the-scenes.
UnREAL was a critical success in Season 1, earning an AFI Award, a Critics' Choice Award (for Constance Zimmer) and two Emmy nominations.
So then why TF was it canned? Following the mega success of its first two seasons, the ratings began to decline and the show was not handed another rose.
The OA (2016 – 2019)
Seasons: 2
Why did people love it? Regarded by critics as Netflix's best original since Stranger Things, The OA weaved a mystery that had viewers hooked and quickly became a cult classic.
The OA has the fiercest, most loyal fan base of any show I've ever come across in my career. Just the other day I was writing a story about a completely unrelated Netflix series and I noticed someone commented, "Don't care about this but tell Netflix to bring back The OA." Gotta appreciate the dedication!
So then why TF was it canned? NFI. But following its axing, fans created an online campaign with the hashtags #SaveTheOA and #TheOAisReal, with fans posting videos of themselves performing the movements from the show. There was even a Change.org petition at one point and funs being raised for a digital billboard in Times Square.
One fan went to the wildly extreme measure of a hunger strike until the show returned, prompting the show's creators to visit her with food and water.
But it looks like even risking one's own life wasn't enough to resurrect the show as it still remains dead in the waters.
Shades of Blue (2016 – 2018)
Seasons: 3
Why did people love it? Jennifer Lopez. Need I say more?
So then why TF was it canned? Following news of its cancellation, Lopez herself confirmed that the reason was purely because the series had reached its natural creative end point.
"We crafted a poetic three-season arc on how [Harlee]'s journey ends, which is true redemption," she revealed. "The way only Harlee could have done it — the hard way, the road less travelled."
Still, I feel like J. Lo as a detective warranted at least another two seasons.
Witches of East End (2013 – 2014)
Seasons: 2
Why did people love it? The quirky supernatural drama filled the hole in the lives of Charmed fans. The series had a bunch of parallels to the cult classic series including a similar-looking house, a book of shadows and a similar witch sisterhood vibe.
Above: The Charmed house. Below: The Witches of East End house.
So then why TF was it canned? A decline in ratings sadly spelled the end for this enchanting series, but it certainly didn't leave without a good wiccan fight.
After its cancellation, fans launched an online campaign to save the show called "Renew Witches of East End". As of June 2019 and after 5 years since the finale, the petition has received more than 279,000 signatures.
A bunch of celebs backed the campaign on social media including lead star Jenna Dewan-Tatum's then hubby Channing Tatum, actor William Shatner and reality star Snooki, along with Buffy the Vampire Slayer's Sarah Michelle Gellar and, of course, Charmed's Shannen Doherty and Holly Marie Combs.
The one and only bright side of the show ending is that the Charmed reboot was able to use the WOEE home but to be honest, I think I'd rather have this show back instead.
The Carrie Diaries (2013 – 2014)
Seasons: 2
Why did people love it? Sex and the City fans enjoyed the glimpse into Carrie's life before Big and a new generation of girls enjoyed the teen drama element.
Plus it was set in the '80s which was an absolute vibe and let's not forget man candy, Austin Butler.
So then why TF was it canned? Despite the creators of the show gunning for a third season, The CW pulled the plug before we could see Carrie begin her fabulous life as a New Yorker.
"I love the last episode of season 2 knowing Carrie was in NYC on her own with all the wonder and terror that brings," executive producer Amy B. Harris told E! News. "[I] always knew that final episode, which I hoped was just a season finale, could also be a series finale if it came to an end."
The second season introduced Carrie's iconic bestie Samantha Jones in her younger form and, annoyingly, Harris revealed that if a season 3 had been greenlit, we would've met young Miranda.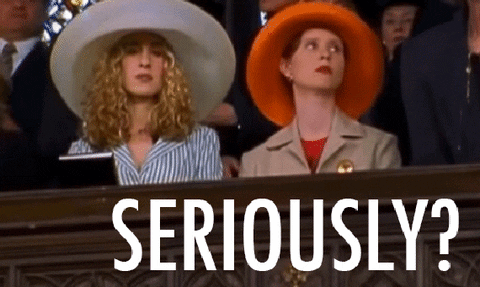 I curse the day The CW peeps were born
Santa Clarita Diet (2017 – 2019)
Seasons: 3
Why did people love it? The blood-soaked comedy horror was equal parts sickening and silly and fans ate it up with a spoon (and slurped up the remaining gizzards).
Much like the noughties Charlie's Angels, the project was helmed by lead star Drew Barrymore and her passion project was embraced by audiences.
So then why TF was it canned? Despite its 'yuge fanbase and the fact that season 3 had an incredible 100% rating on Rotten Tomatoes, once again the number of supporters didn't match up to the production costs.
At an INTV conference in Israel, Netflix's head of original content, Cindy Holland, discussed why the show was axed.
"It's a combination of things," she said. "When we're investing, we decide how much to invest based on the audience that will show up. If the audience doesn't show up, we think about the reason to continue to invest in something that doesn't do as well as we had hoped."
Scream Queens
Seasons: 2
Why did people love it? The outfits. The savage one-liners. The parodies of literally everything from Taylor Swift to OG horror films.
Not to mention the incredible cast, including Emma Roberts, Abigail Breslin, Billie Lourd, Jamie Lee Curtis, Lea Michele, Keke Palmer, Niecy Nash, Glen Powell, John Stamos, Taylor Lautner and Colton Haynes.
So then why TF was it canned? The premise of the series was about a group of catty sorority sisters and the first season executed this beautifully (literally), but the second season was set in a hospital and the Chanels just weren't as interesting in scrubs, even if they were Chanel scrubs.
Talk of a third season revival has been rampant since its cancellation, with creator Ryan Murphy telling Deadline just days ago that he'd be down.
"Obviously I work for Netflix now, but if I could do anything to bring it back," he said, adding that the cast is also keen.
"Emma [Roberts] said she would do it, Lea Michelle said she would do it, Jamie Lee Curtis, Abigail Breslin, Billie Lourd are all in. So it would depend if Fox wants to do it. I think we'd all do it. I think we're waiting for them to call us. I know the show is very popular and had a real spike in popularity on Hulu."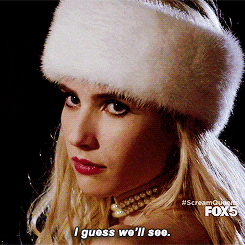 Don't Trust the B—- in Apartment 23 (2012 – 2013)
Seasons: 2
Why did people love it? James Van Der Beek playing a fictional version of himself? Sign us TF up!
The charming but sassy series copped rave reviews, with many critics praising Kristen Ritter for her performance in what could be called her first leading role.
So then why TF was it canned? Van Der Beek blamed programming as the reason behind the show's cancellation.
"Sad to say ABC has pulled #Apt23 and will not be airing the 8 remaining episodes any time soon. Translation: we've basically been cancelled," he tweeted. "Thanks to all who tuned in. We had a blast making it. Can't imagine a more fun work environment with better people. But onto the next…"
Van Der Beek added, "While I'm sure no one [at ABC] would say they think they nailed it when it came to programming #Apt23 this year … You've got to give ABC props for ever picking us up in the first place. They took a shot at something original & edgy. I respect them for it."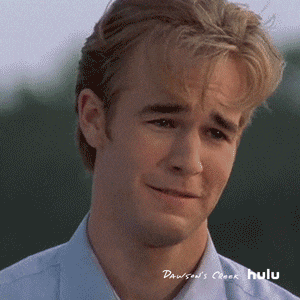 The Secret Circle (2011 – 2012)
Seasons: 1
Why did people love it? It was about a group of hot as hell teens who discover they are witches and form a butt-kicking coven. What's not to love?
It starred our very own Phoebe Tonkin as badass witch Faye, along with Girlboss star Britt Robertson and Shelley Hennig (Teen Wolf).
So then why TF was it canned? The show was The CW's third-highest rated performer, which may not sound like much, but just think about how many shows The CW has. This was major!
But ratings aside, the network still made the decision to can the show, prompting a formal fan-led campaign website titled 'Save The Circle,' as well as a letter-writing campaign (don't see much of those anymore).
Fans donated between $1–10 to the Make a Wish Foundation in the name of MTV, aiming to attach a good cause to the campaign while getting MTV's attention.
The Secret Circle executive producer Andrew Miller auctioned a signed poster of the show's cast in support of the campaign. In the end, over $7,000 was raised.
Since the show was cancelled, fans have voted it "the show that will be missed most" or "Most Shocking Cancellation" in a number of polls, including E!, Clique Clack, Hypable, Spoiler TV, TV Fanatic, TV.com, and Zap2it.