Part of the joy of Christmas is the guilt-free bingeing of the corniest, cheesiest, most sickeningly predictable Christmas movies with flimsy storylines and mediocre acting.
'Coz who wants to watch an Oscar-worthy performance when you're writhing in pain from all the ham and eggnog you've consumed?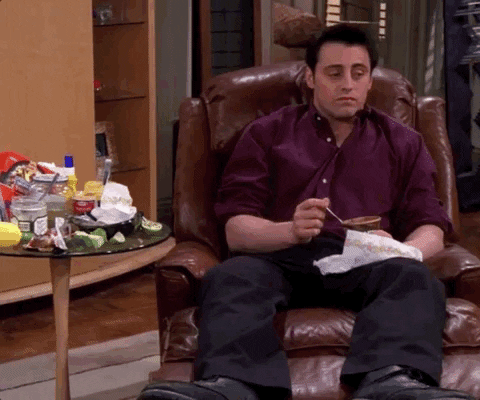 me after my 45th helping of turkey
To get us pumped for the silly season, Netflix has unveiled their list of Christmas flicks that they'll be rolling out over the next month for you to binge with your nearest and dearest during your festive gatherings.
Merry Christmas, ya filthy animals.
Holiday in the Wild
Charlotte from Sex and the City and Chris from Parks and Rec meet at a bar on their way to an elephant conservation in Africa and you can pretty much guess what happens next.
The movie is your average corny love story, with the added elephant conservation element which is actually a pretty damn important topic so I defs recommend this one for a bit of wildlife education.
It's available to stream on Netflix right now so in the spirit of SATC, mix yourself a cosmo and go nuts. Geddit? 'Coz elephants eat nuts? (Fun fact: They actually don't… another thing Hollywood lied to us about).
Let It Snow
Prominent members of young Hollywood unite to bring us this incredibly good looking tale.
The synopsis goes like this:
When a snowstorm hits a small midwestern town on Christmas Eve, a group of high school seniors find their friendships and love lives colliding thanks to a stranded pop star, a stolen keg, a squad of competitive dancers, a mysterious woman covered in tin foil, and an epic party at the local Waffle Town. Come Christmas morning, nothing will be the same.
The flick is based on a best-selling book by John Green which means we're actually in good hands, storyline wise.
It stars Chilling Adventures of Sabrina star Kiernan Shipka, Aussie Descendants actor Mitchell Hope and Joan Cusack, who you'll recognise as the principal from School of Rock.
It's already out on Netflix so go forth and spread the Christmas cheer.
Klaus
No Christmas flick list is complete without a cooky cartoon filled with wholesome messages, enter Netflix's brand new offering Klaus.
The movie tells the story of a postal academy where peeps are trained in delivering presents to the kiddies of the world.
It follows Jesper (Jason Schwartzman), a less than skilled student who forms an alliance with local teacher Alva (Rashida Jones) and Klaus (Oscar winner J.K. Simmons) and together they return laughter to Smeerensburg. How sweet.
This one's also out now so if the trailer below takes your fancy, go ahead and give it a watch.
The Knight Before Christmas
Vanessa Hudgens has cemented herself as the qween of corny Christmas flicks and we love that for her.
Following on from last year's wildly ridiculous flick The Princess Switch, the HSM alum is now the face of another Chrissy movie about a gallant English knight who is magically sent from the medieval era to present day.
Bamboozled by the entire thing, the knight sets out to seek his true quest and ends up falling for a caring high school science teacher who is disillusioned by love.
It arrives on Netflix today so grab yourself a carton of eggnog and enjoy.
Holiday Rush
We've got sad elephant tale Holiday In The Wild on the list but we needed a sappy human sob story to add to the mix… enter Holiday Rush.
It's about a New York radio DJ Rush Williams (Romany Malco) who likes to spoil his kids on Chrissy following the death of their mother, but after he gets the boot from his job, he struggles to find a way to fund their exxy xmas.
Holiday Rush drops on Netflix on November 28.
A Christmas Prince: The Royal Baby
Do you froth on the royals or at the very least the corny as hell movie adaptation of their lives, A Christmas Prince?
Well you're in luck 'coz the third flick in the series is coming next month and it's all about the birth of the royal baby.
Here's what you can expect from the hotly anticipated third film:
It's Christmastime in Aldovia, and a royal baby is on the way! Queen Amber (Rose McIver) and King Richard (Ben Lamb) are getting ready to take some time off to prepare for their first child's arrival, but first they have to host King Tai (Kevin Shen) and Queen Ming (Momo Yeung) of Penglia to renew a 600-year-old sacred truce. But when the priceless treaty goes missing, peace is jeopardised and an ancient curse looms. Amber will have to figure out who the thief is before the clock strikes midnight on Christmas Eve, for the safety of her family and the kingdom.
Reserve your household's royal throne (couch) on December 5 when the flick drops.
Santa Girl
Remember Selena Gomez's bestie in Wizard of Waverly Place?
Well, her life certainly hasn't been lacking in magical adventures lately as she plays Santa's daughter in this new xmas flick.
Cassie Claus leaves the North Pole behind to attend college in the real world, before returning home to fulfil her annual duties.
It's now streaming on Netflix.
A Cinderella Story: Christmas Wish
You've seen Hilary Duff's A Cinderella Story and Selena Gomez's Another Cinderella Story (lol jks), now here's a Christmas spinoff.
This take on the old school fairytale is about an aspiring singer-songwriter who longs for the day where she can leave her wicked stepmother and bitchy stepsisters and move away to start her career.
Her dreams are on the verge of coming true when she's invited to the prestigious Wintergarden Christmas Gala but her step-family steal the invitation, leaving her fate in the balance.
Dun dun duuuuun.
Laura Marano (Disney's Austin and Ally) plays this 2019 incarnation of Cinderella and the baben' Gregg Sulkin (Marvel's Runaways) plays Prince Charming.
Suss the trailer below and catch the movie on Netflix on December 1.
So those are all the brand new Chrissy flicks, now here are a bunch of other gloriously goopy ones that have just been added for your enjoyment.
Christmas Break-In
Prepare for the biggest Christmas mind-fuck on this list: a straight-to-DVD female reboot of Home Alone came out last year, featuring a young girl who unleashes holy hell on a group of burglars who break into her school and tie-up her janitor.
Said janitor is played by the Danny Glover (yep, some master of manipulation somehow talked him into this shitshow).
Shoutout to Denise Richards who plays the flustered, squealy, 2019 rendition of Catherine O'Hara.
Nowhere near as good but she gives it a red hot crack, bless her
Catch the trailer for bootlegged Home Alone below:
Christmas Survival
In this house, we stan a British Christmas flick (I dunno, those Brits just really know how to bring the Chrissy vibe), so buckle up for Christmas Survival.
Basically anything that can go wrong at Christmas, does go wrong in this movie, from biffing with relos to setting the feast on fire.
It's an absolute RIOT, let me tell you.
Elliot the Littlest Reindeer
Ok this one actually sounds hilarious / adorable / a perf pick for the whole fam.
When Blitzen announces his retirement on December 21st, a miniature horse has 3 days to fulfill his lifelong dream of earning a spot on Santa's team at the North Pole try-outs.
It features the voices of comedians Martin Short, John Cleese, Samantha Bee and Hunger Games star Josh Hutcherson.
Holly Star
As corny as this one sounds, I've gotta say, the plot is pretty darn original.
A broke puppeteer returns home for the holidays (that's a new one) and gets caught up in a treasure hunt with her paintball-obsessed best friend, her tango-dancing grandmother, and a childhood sweetheart.
Very normal areas.
The Christmas Candle
For the religious folk out there, here's a flick called The Christmas Candle.
Have a go at the synopsis to see if it tickles your fancy:
A pastor who's suffered a personal loss accepts a position in a town that believes in a Christmas miracle candle, which he strives to abolish.
Actually, scrap what I said earlier. It's not just for religious folk.
The movie stars Susan freaking Boyle, therefore it's entertainment for all, whether you're spiritually inclined or not.
Christmas in the Heartland
I really don't know what to say about this one. The plot literally sounds identical to every single other Christmas movie ever:
Kara and Jessie are two teenager girls from very different worlds, but with a little Christmas magic, they find they have much more in common than they ever imagined.
I mean, sure. Why not.
A Holiday Engagement
Remember when Ross on Friends furiously asked his pals, "What was wrong with Mona?"
Well, you're about to find out, 'coz in A Holiday Engagement, the same actress plays a chick who pretends to be engaged just to satisfy her parents.
Looks like the Friends gang were right about her all along.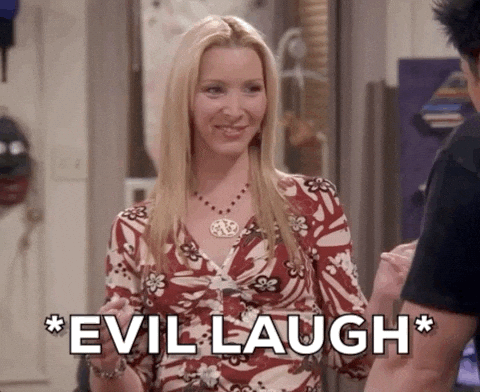 A Holiday Engagement also stars the mother in The Brady Bunch Movie / the grandmother in Modern Family, Hilary Duff's sis Haylie and, interestingly, Chandler's grabby boss on Friends.
Christmas Crush
Originally titled Holiday High School Reunion, Christmas Crush combines the age-old xmas flick trope of returning home for Christmas with the spicy high school reunion storyline.
Georgia Hunt (played by Witches of East End star Rachel Boston) returns home from the big smoke for Christmas to try and win back her high school crush, only to end up with Aaron Samuels from Mean Girls.
I actually don't know if she ends up with him 'coz I haven't seen it yet (saving it for my Christmas Eve binge), but I can only assume that that's where the story goes, based on the trailer:
Dear Santa
Aw, this one sounds precious:
A young woman who comes from a life of privilege falls for the owner of a soup kitchen after discovering a Dear Santa letter written by his seven year old daughter.
We love to see rich white people use their privilege for good in film, mostly because we so rarely see it in real life.
'Tis a true Christmas miracle.