We've been pounding our chests, chanting 'Wakanda Forever' for months now in the hopes of manifesting more info on the mysterious Black Panther 2 and our royal petitions have worked, mates, 'coz we FINALLY have a release date.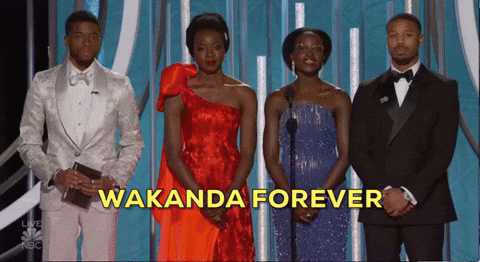 At Disney's D23 Expo, Marvel Studios president Kevin Feige tried to convince Black Panther filmmaker Ryan Coogler to unveil some deets about the smash hit movie's sequel but despite his best efforts, all we could get was a release date and beggars can't be choosers.
The writer-director revealed the sequel (which currently only has a working title of Black Panther 2) will open May 6, 2022.
JUST ANNOUNCED: @Kevfeige and Ryan Coogler announce a #BlackPanther sequel is coming to theaters May 6, 2022! #D23Expo

— Disney D23 (@DisneyD23) August 24, 2019
Feige also pointed out that the first flick is the only Marvel film ever to be nominated for Best Picture which is a pretty epic feat.
In fact, the movie won three Oscars for original score and production as well as costume design.
Since its release in February 2018, Black Panther has grossed more than $700 million, according to Box Office Mojo.
Sadly no other details are currently known about the flick so sit tight and keep chanting 'Wakanda Forever'.