If, like me, you were one of those weird kids who always related to Disney's villains rather than their heroes then you're in luck because the house of mouse is putting the spotlight on the baddies with their upcoming live-action films.
At Disney's convention D23, it was revealed that the studio is keen to tell the untold stories of your fave villains as seen in Maleficent and its forthcoming sequel as well as 101 Dalmatians bad binch Cruella de Vil.
During the Disney showcase, we were teased with our very first look at Emma Stone as the dog hating, fur wearing Cruella.
Behold:
Uh… are we sure this is a Disney film?
Or was I sent the wrong jpeg?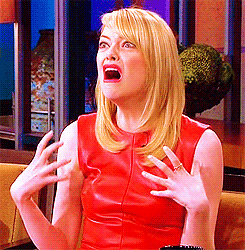 I mean, I totally fuck with this badass vibe, I just can't bloody believe that THAT's Emma Stone.
omw to skin yo dawgs
Sadly Emma was unable to attend D23 as she was busy on set filming but in a pre-recorded video message, she revealed that Cruella will be a "punk rock" live-action flick, taking place in 1970s London.
The film also stars Emma Thompson, Paul Walter Hauser, and Joel Fry, and is directed by I, Tonya director Craig Gillespie.
It was explained that the movie would tell the origin story of the villain, including how she came to be so, well, cruel.
Cruella is set to be released in cinemas on May 28, 2021.