Austin Butler, a man who genuinely seems to believe he is Elvis Presley reincarnate, recently committed the ultimate dirty dog move by referring to his former partner of 10 years Vanessa Hudgens as a "friend" in an interview. And people are PISSED.
Butler brought the shade during a conversation on The Hollywood Reporters Roundtable, which was released on Wednesday.
The whole gang — Colin Farrell, Brendan Fraser, Jeremy Pope, Ke Huy Quan and Adam Sandler — was also there, but for now we don't care about them. They are but innocent bystanders to the violence that Butler inflicted.
Basically, Elvis 2: Electric Boogaloo was recalling how the role in the biopic came about.
"So I was looking at Christmas lights and there was an Elvis Christmas song on the radio and I was with a friend of mine," he said with the cadence of Las Vegas' worst Elvis Presley impersonator.
"I was singing along and my friend looked over at me and said, 'You gotta play Elvis.'"
OK I kind of lied because it was at this point that my lord and saviour Adam Sandler said, "Oh wowwww," in literally the most disinterested, half-hearted voice ever. It was delicious and I will savour it for as long as I live. But alas, I digress.
"I said, 'That's such a long shot … and then a couple of weeks later I was playing the piano and I never really sang for any of my friends or anything," Butler continued.
"My same friend was there and I was playing the piano and she said, 'I'm serious, you've got to figure out how you can get the rights to a script and like, write something."
The actual Roundtable chat is almost an hour long, but you can watch the full 34-seconds of his fuckery below.
him calling vanessa hudgens a "friend" PLEASEEEE pic.twitter.com/4T4SjI1W6g

— azhar (@mcstardently) January 10, 2023
You might be wondering how we know that Butler is referring to Vanessa Hudgens. Well, during an interview on Live with Kelly and Ryan back in 2019, she literally explained the exact same story.
"Last December we were driving along and we were listening to Christmas music, and an Elvis Presley Christmas song came on," she said.
"He'd just dyed his hair dark — he's a natural blonde — and I was looking at him as he was singing along and I was like, 'Babe, you need to play Elvis. I don't know how but like I'm serious, you need to play him.'
"Then in January he was sitting at the piano — he's a musician — and he's playing and he's singing and I'm like, 'I don't know how, but we need to figure out how you can play Elvis. Like, I don't know how to get rights or what we do, but you need to play him, it is your calling.'
"That next month we get a call saying Baz Luhrmann is doing the Elvis biopic and I was like, 'Babe, this is it.'"
So not only did Butler like, give her literally zero credit even though she was the one who convinced him to play Presley, but she essentially manifested the role. She put that shit into the universe and it came back.
Now, I know that some people are going to be like, "They broke up! Is he meant to call her an 'ex' forever? Can they not be friends? What else should he call her?" and I don't want to hear it. Literally all he had to say was "my partner at the time" or, you know, "Vanessa".
Like me, folks are suitably annoyed.
Vanessa Hudgens: pic.twitter.com/4KDlXjLMkj

— Q U I N N (@quinncyrusxxx) January 11, 2023
vanessa is fully justified in anything she does to him by the way

— Ethel Cainiac (@evemmore) January 10, 2023
vanessa hudgens is a stronger woman than me

— the new year's scorpio 💌 (@girlbosskenroy) January 10, 2023
he's soooo disrespectful

— 𝖓𝖎𝖑𝖔 (evil hag) (@probablypersian) January 10, 2023
Vanessa needs to put a curse on him idk

— I'm tired "not Reos" (@NotHreos67) January 10, 2023
Imagine spending entire decade with someone only to refer to them in interviews as a "friend" Iaawd I'd shed real tears.

— April's Finest 💕 (@MakeedaRoberts) January 10, 2023
this is just…absolutely diabolical.,,,,hope she pulls a gone girl

— alexa thee tweeter 🤎 (@obamasairpods) January 10, 2023
It would also appear that my husband Colin Farrell didn't care for Austin Butler's antics, judging by the stunning, iconic and awe-inspiring face he pulled when the disembodied spirit of Elvis Presley was gasbagging.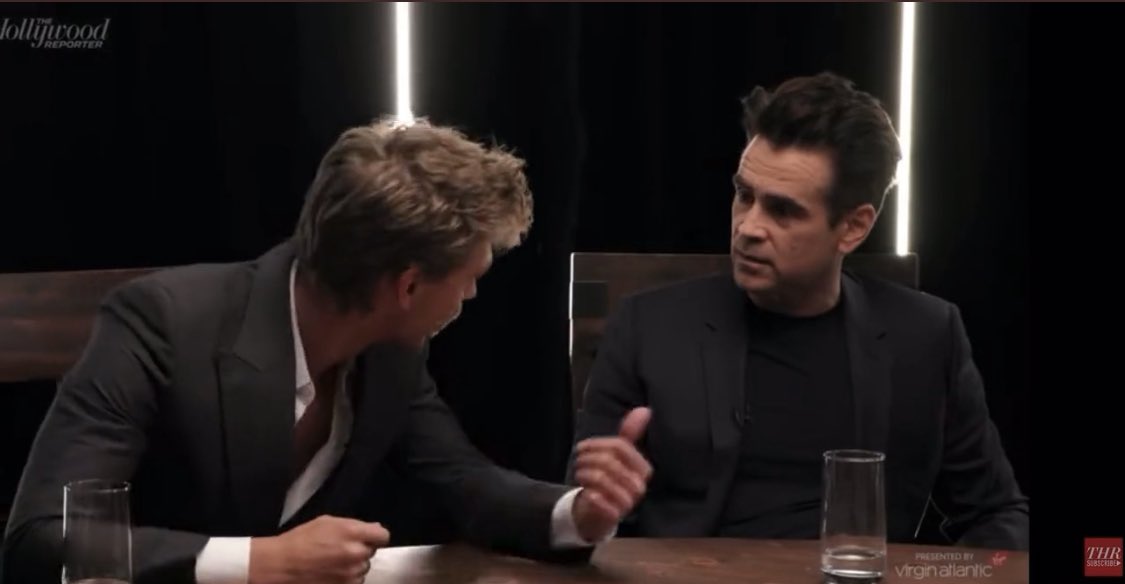 Same, Colin. Same.