PEDESTRIAN.TV has partnered with Flight Centre to get you exploring more of Asia with their A+ deals here.
---
Laos
, while sometimes overlooked in traveller's bucketlists, boasts a bunch of hidden-away caves that are worth visiting. (When you're done with the caves, try bathing an elephant in the
Mekong River
, dipping in the lush waterfalls, witnessing the traditional
Alms Giving Ceremony
and more – but first, let's appreciate the caves.)
Below: the best of the best, beautiful, magical, majestical, stunning, otherworldly, captivating underground chambers to get inside as soon as you possibly can.
THAM KHOUN XE

Photo: Instagram / @rdeboodt.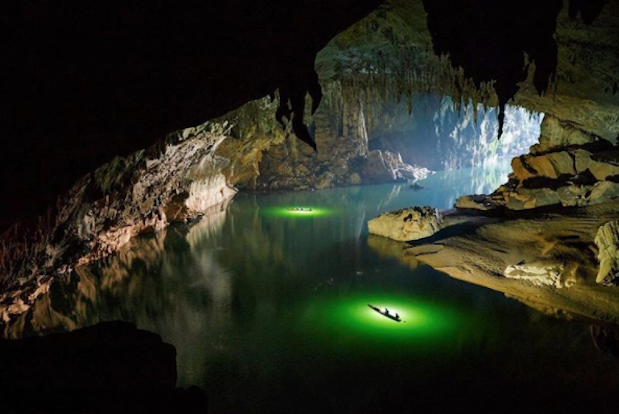 Photo: Instagram / @rdeboodt.

This river cave is considered one of the largest in the world (it's 7km long and has an average width of 76m and height of 56m) and is located in the Hin Nam No Natural Protected Area in central Laos. Interestingly, it only started attracting visitors a little over 10 years ago. It can be visited from November through April – aka Laos' high season – and keep in mind that it can also be referred to as the Xe Bang Fai River Cave.
KONG LOR

Photo: Ben Davies / Getty.

Photo: wegsite.net.
Kong Lor cave – also known as Tham Kong Lo – is a massive karst limestone cave that's in Central Laos' Phu Hin Bun National Park. It's one of Southeast Asia's geological wonders with ceilings over 300 feet tall, stalactites that'll make you question everything you know about the world and limestone formations that are just plain pretty. You'll have to hire a small boat to get in from one of the nearby river villages.
VIENGXAY

Photo: Instagram / @motormuse.

Photo: Instagram / @missma925.
From 1964-1963, Pathet Lao revolutionists found shelter from US bombings in Vieng Xai with what one could describe as an entire cave city – the limestone caves established everything from bedrooms to a bank, bakery, theatre, hospital and more. Definitely worth a visit.
THAM JANG

Photo: Instagram / @fromlaoswithlove.

Photo: Instagram / @wetravel2live.
Used as a bunker in the early 19th century, Tham Jang is easily one of the most famous caves around Vang Vieng (just to the southwest). Get in there by bridge over the Nam Song River and down a long flight of steps. As you can see by the pics, 10/10 worth it.
To help you make your way around Laos and its wondrous caves, Flight Centre are currently pumping out epic two-week tours through Thailand, Laos and Cambodia. Get around it here.
Photo: Instagram / @rdeboodt.