Australia has a growing community of people who travel overseas to participate in a sport they love. Known as airsoft, we're among countries like North Korea, Yemen, Syria, Honduras, Singapore, and Turkmenistan, where it's illegal.
[jwplayer sKZZk6x3]
In many ways, airsoft is similar to paintball. Air guns – often called airsoft markers or BB guns – are used to shoot little plastic or biodegradable balls to tag opponents in either indoor or outdoor arenas. There are a variety of different types, but most use pressurised gas or battery-powered electric motors to run.
Many who play say it actually hurts less than paintball, which is legal to play across Australia. For airsoft, the reasons for its ban differ from state to state.
Worldwide, the sport is incredibly popular and is even big enough to garner a number of YouTube content creators with huge followings. The largest is undoubtedly Novritsch, an Austrian airsoft player famous for his sniper gameplay videos. His channel has an enormous 3.6 million subscribers and recently, he took up the fight for Australian airsoft, releasing a video encouraging viewers to sign a petition.
You can see the video for yourself below.
The petition he mentions has hit a little over 25,700 signatures at the time of writing and outlines a few of the issues surrounding airsoft in Australia currently.
"It isn't the sport itself that is the problem, it is the guns," the petition reads. "Paintball guns are completely legal in Australia, even though the projectiles are much larger." 
Recently, legislation was passed which removes paintball guns and activities from firearms legislation in NSW, which will commence from July 1, 2019. "The new laws recognise paintball markers are not lethal weapons, but still impose strict control features that ensure the safety and security of players and the community," the Fair Trading NSW post reads.
Anyone wanting to own a paintball gun still needs to "be over 18, pass a fit and proper person assessment and undertake mandatory paintball marker safety training."
The laws are a little hazy and vary from state to state, but for the most part, airsoft is banned because the markers used to play it resemble actual firearms. In most states, the current legislation classes anything which looks like a firearm as an actual firearm.
In other words, the sport itself isn't illegal, but the possession and importation of airsoft markers is.
Another hurdle, fans say, is the idea that airsoft could be considered a paramilitary activity, but the Western Australian Airsoft Club's Mark Mildenhall says "attitudes have changed massively" on this side of things.
If you're confused trying to nail down a specific reason the sport is banned, you're certainly not alone, but for the most part, the sport was outlawed (as a byproduct of John Howard's strict gun laws) in Australia before it really took off internationally, meaning most Australians don't know what it is.
As far as working towards legalisation goes, Josh McKenzie, co-founder of Australia's travelling airsoft team, OZ1, says undoing legislation is often harder than banning something altogether.
"As legislation for this specific cause happens mainly on a state level, (only some import restrictions apply federally) we're in talks with developed club leadership from all over the country including QLD Airsoft Club, VIC, SA, NT and ACT as well as WAAC, who have been moving in big strides," he told PEDESTRIAN.TV.
Josh is also an admin of the Airsoft NSW Facebook page, which keeps fans in the state abreast of changes and updates surrounding the sport locally. He, along with a ton of others, have been campaigning for Australian airsoft for around a decade.
Compared to other states, WA is leagues ahead and could be the first state to legalise airsoft in Australia. The sport's biggest supporters, the Liberal Democrats, will be tabling a bill for legalisation later this year.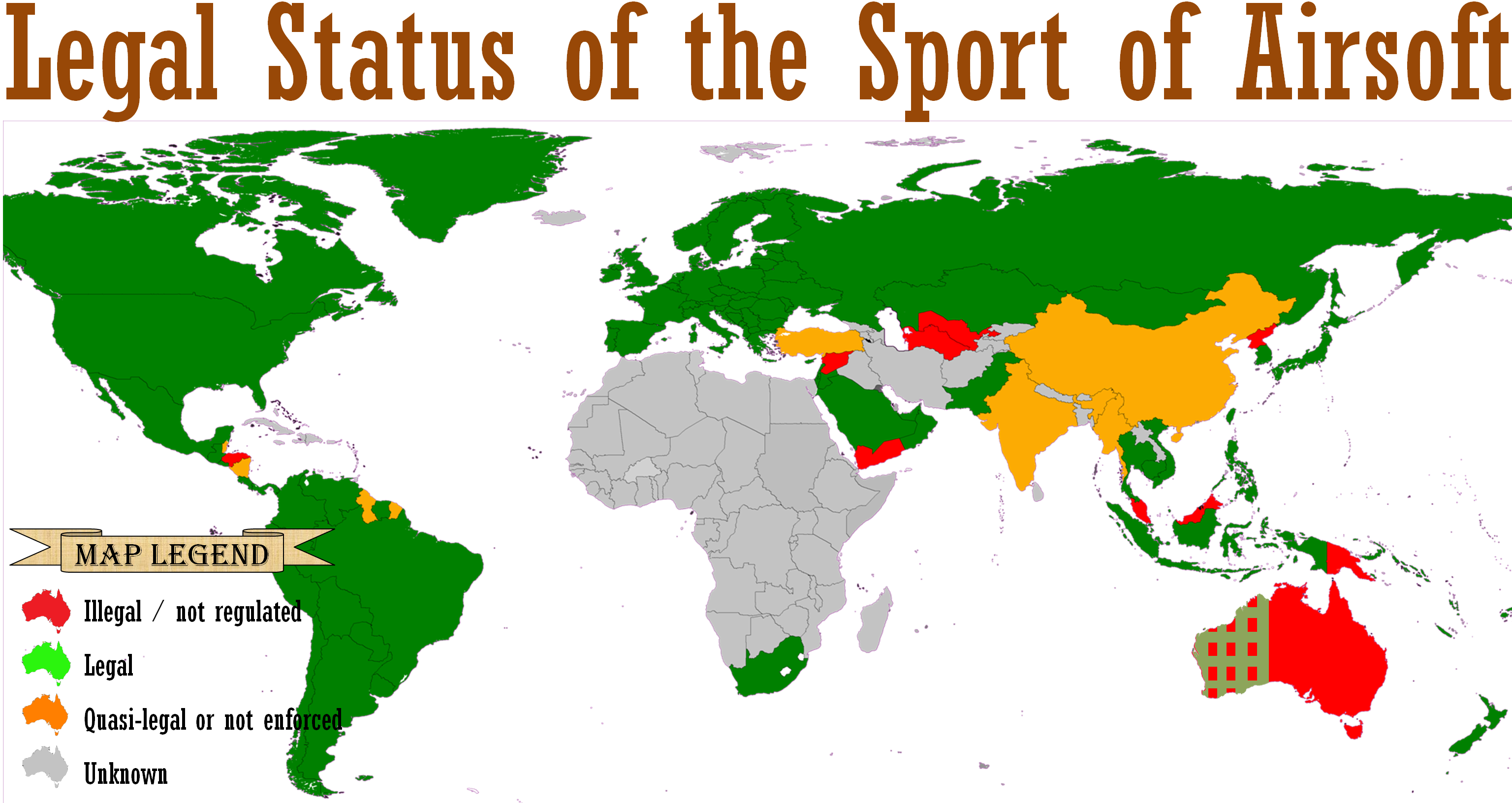 "Western Australia is going well, with Aaron Stonehouse MLC looking to introduce a bill to make Airsoft legal in September 2019," Mildenhall said. "This is a huge success and for members of our club, the culmination of many years of work."
In Queensland, clubs are also working with the relevant authorities. "Queensland Airsoft Sports Club and past QLD clubs have been fighting for Airsoft for over 6 years now," QASC president, Will Coleman, said via email "We are sitting members of the QLD police minister's firearms advisory forum and work closely with our respective local and state ministers to work towards the legalisation of airsoft in QLD."
"Each state and territory has their own club or association working towards the same goal, we all work together to rally on a federal level where we can but with legalisation varying so much from state to state it has been agreed that it's best for each state to approach the issues as they see necessary."
For the rest of the states, all eyes will likely be on WA and the outcome of its push for state legalisation. The consensus seems to be that once one state lifts the ban, others will follow, although it may take some time. I reached out to the NSW Police for comment on current state legislation but did not receive a response.
In terms of why people prefer airsoft over paintball, most of them will give you a few similar answers. "Airsoft is cheaper," OZ1 co-founder, Cal, said. To give that some context, Mildenhall says "airsoft costs half [of what paintball typically costs] or less for a full day of fun and exercise". In many states, he says, it's not unnatural to spend upwards of $100 to play paintball for a single day.
"Some might disagree with me but I'd say airsoft shoots further, more accurately, and hurts way less," Cal adds. There's also an element of "the rush and the realism" with airsoft, which allows for an experience which is more closely aligned with popular video games like Call of Duty or Counter-Strike, with the added bonus of getting outside and active rather than sitting in front of a screen. Along with this, there's a greater emphasis on teamwork and a need to think tactically about things like reloading or strategic positioning.
For example, the very existence of airsoft sniper rifles with greater range means players need to think differently about their approach to, say, advancing towards a point of interest. Paintball simply does not allow for this level of immersion, I'm told.
While there are plenty of gamers amongst those who play airsoft, the actual demographic is incredibly varied.
"Past surveys have shown that doctors, firefighters, shop owners, businessman, plant operators, hairdressers, childcare workers and even police officers play and are interested in airsoft," Coleman said "To nail it down to a single type of person is impossible because of the variety of personalities airsoft brings to the field."
A concern amongst some communities is that airsoft markers could be used to commit crimes, but Mildenhall argues that those wanting to imitate firearms are already doing so with other items or simply obtaining real ones. "Everything from real firearms to cap guns and boomerangs have been used for armed robbery," he said.
"I would like to think people would be responsible in ownership of such things as airsoft. Legislation should have checks and balances, weighed though against what the item is and what it is ultimately capable of doing. If used illegally, the full force of the law should be used."
All clubs agree that airsoft must be regulated in some way. Some suggest a mandatory licence to own airsoft markers, while others would be happy to undertake a firearms safety course and have safe storage laws in place similar to those imposed on actual firearm owners. All advocates are very clear that if a marker is used to imitate a real firearm, it should be viewed as a real firearm in the eyes of the law.
"We believe that anybody who uses anything to imitate a firearm for nefarious purposes should be punished with the full force of the law," Coleman said. 
I reached out to gun control advocacy group, Gun Control Australia, for its stance on airsoft, but have not received a response.
Besides paintball, the closest thing Australians can get to playing airsoft without going overseas is played with similar replicas called gel blasters. These function similarly to airsoft markers, but instead of shooting plastic BBs, they shoot little water gel balls which explode on impact. They're legal in QLD and SA but banned in NSW and VIC due to the same appearance laws applied to airsoft markers.
As reported by the ABC, a man named Peter Clark who was selling gel blasters in QLD last year had one of his shipments seized by the Australian Border Force. After an expensive legal battle, the courts eventually decided that the gel balls could not be classed as ammunition and declared the blasters as toys.
In NSW, Brad Towner is in the centre of what he calls a "test case". Towner had been importing gel blasters and selling them for nine years, which was known to the NSW Police at the time.
"They had a look at my toys, they took photographs, added them to my profile on me to say he's a legitimate toy gun seller and there's no problem at all," Towner told the ABC. In March of 2017, police charged him with a range of firearm offences, including dealing. The outcome of the case could have an enormous impact on not only gel blasters in NSW, but also the eventual introduction of airsoft.
Where gel blasters are legal, sellers are struggling to keep up with demand, with the sport growing in popularity every day. In QLD, there's a constant stream of events and new fields, attracting a ton of folks who are keen to get involved.
In SA, police seem supportive of the hobby, spreading awareness via a Facebook post and warning those who may be planning to use blasters for nefarious reasons.
"Superintendent Steve Howard, the officer in charge of the Firearms Branch, said that although the items are legal, police would still consider each incident on the full circumstances which could see individuals charged with a range of offences including assault, making unlawful threats, or creating false belief," the post reads.
You can see the statement in full below.
For airsoft, campaigners say legalisation is becoming more a matter of when than if, even if the when isn't as soon as they hope.
"Yes, it will be legalized. It is hard to argue that a sport is dangerous when it is played throughout the western world and Asia, Central America, South America, the Pacific Islands and parts of Africa," Mildenhall said.
"Yes, 100% I believe it will be, as for when, I believe it'll be when a government or leadership is elected that looks at and sees the financial, health and community benefits of airsoft," Coleman added.
Even those battling in NSW are hopeful. "We've come along way in that time and it's closer than its ever been," Cal said.
The greater Australian airsoft community will be looking towards the outcome of WA's bill in September, but until then, the majority of them will continue hitting the fields overseas.