Heads up: high street hero, Sportsgirl, just dropped the makeup line of your childhood dreams.
Teaming up with confectionary champs, Allens, the seven-piece beauty line is inspired by the most iconic Aussie lollies.
Fantales, Freckles,  Sherbies: you name it, they're there.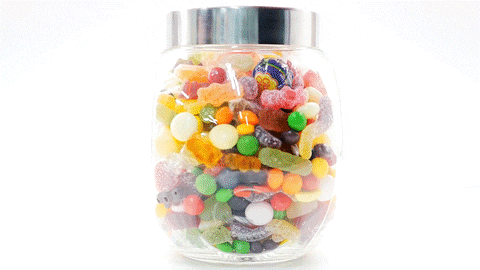 With everything from highlighter and nail polish to eyeshadow palettes and body mist available, your makeup kit's about to get a seriously tasty makeover.
What's better, the collection is also very affordable, with prices starting at the humble $12.95 mark, meaning you can fill your pockets with the nostalgic goodness. Scroll down to see the scrummy collab in full.
First up is this schmicko Fantales glow cream:
OMG a Freckles eyeshadow palette!?
Freckles Eyeshadow Palette, $29.95
WANT/NEED THIS.
Strawberries & Cream Bodyscrub anyone?
Strawberry & Cream Body Scrub, $14.95
Ermagerd. There's a shimmery Sherbies illuminating palette:
Sherbies Illuminating Palette, $19.95
Sah pretty!
Don't even get me started on this Peaches & Cream nail polish trio (which smells like the actual lollies):
Peaces & Cream Nail Polish Pack, $14.95
JELLY BEAN LIPGLOSS?! SHUT UP AND TAKE MY MONEY.
Jelly Bean Scented Lip Trio, $19.95
And, aside from looking like a total snack, you can also smell just as delish with these raspberry, banana and pineapple body mists:
Makes Scents Party Mix, $19.95
Now, as a die-hard Allens fan I gotta ask, 'where's the Minties at y'all?' Those suckers nearly break my teeth but I keep going back 'cos they're so damn yummo and I'll never learn.
Same thing goes for Jaffas and Snakes Alive. Maybe this means another drop is in the works – WHO KNOWS.
Annyyyyways, this range is available in stores and online today, folks. So get in fast before it all sells out. While I think on, this would also make a killer Christmas prezzie for your niece who you always forget to buy for, just sayin'.
All images c/o Sportsgirl.
Image: Sportsgirl Beauty