Kim Kardashian and Paris Hilton go way back. Like, back to when they were around 10-years-old.
Since then, they've had an… interesting… journey together. From Kim playing Paris' seriously whipped wardrobe assistant on The Simple Life, to the pair's years-long feud, and then Paris posting throwback shots with Kim on Instagram because apparently they're all good again.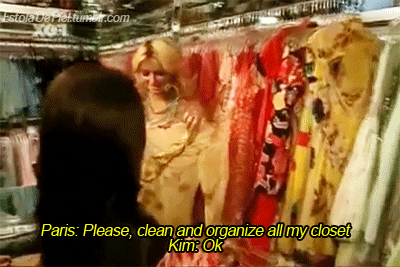 Safe to say, it's been a truly wild ride.
Now Kim's stepped out in New York City paying homage to her former boss' iconic 21st look: a teeny-weeny silver shimmer dress with cowl neck detailing.
I can't put into words how much I love this dress. Like, if I had to come back in my next life as a piece of clothing, I'd 3000% pick this.
Kim wore the instantly recognisable outfit to the  Versace pre-fall 2019 runway with husband Kanye West in tow.
Yup, we know exactly what you're doing Kim.
Here's a close up of the glitteriness, for my fellow magpies:
And Kim's not the only Kardashian to channel Paris' bedazzled look, with Kim's younger sister, Kendall Jenner, wearing a near-identical look to her very own 21st birthday party:
Kim also shared a picture on her Instagram Stories showing leaving, breathing legend, Naomi Campbell also wearing the look:
See what we mean when we say it's an iconic dress?
Anywhoo, aside from Kim's outfit, what else happened at the Versace show?
For starters, Kanye was seen boppin' out to our very on Tkay Maidza's song:
Bruh @kanyewest is nodding his head to My song @ the Versace show !!!! I'm screaming ???????????????? pic.twitter.com/xPUVGvnESr

— BUBBLES ???????? (@TKAYMAIDZA) December 3, 2018
The artist herself spotted the footage, taking to Twitter to share her amazement writing:
"Bruh @kanyewest is nodding his head to My song @ the Versace show !!!! I'm screaming".
Of course, the runway was the usual dose of fire, but our highlight is the moment Kanye noticed an earring had fallen on the cartwalk and he decided to pick it up:
Kanye initially refused to, but then Kim managed to convince him and, whaddaya know, he did it:
Wild.
Image: Getty Images / [Daniel Zuchnik]