There's not many things that delight me as much as Jonathan Van Ness, resident Queer Eye grooming guru / wonderful human sunbeam man. He's got this incredible energy and radiates positivity, which makes watching the show impossible to do without a big old grin on your face.
JVN is also really fun to follow on Instagram, so go ahead and do that if you haven't already – you won't regret this, I promise. As one of his loyal followers I just felt like calling to attention that JVN's style game has been on point these past few weeks as he roams around with his fellow QE castmates doing press for Season 3.
Like, Mr. Jonathan Van Ness always looks amazing but he's serving some straight fire at the moment, with the help of his stylist Alison Brooks. I mean, the heels. The handbags. The skirts. I die. I want to go to my wardrobe, Marie Kondo everything onto the floor, then burn it.
To kick things off, here he is visiting my other favourite human Busy Philipps for her show Busy Tonight. I need this fringed skirt in my life right now, please. (The jaunty cheerleading pom poms wouldn't hurt, either).
Look I'd probably break and ankle and / or neck wearing those black patent boots, but Jonathan seems to be more than capable of walking and jumping in them, so I'll leave that particular look to him.
This pics went mildly viral during the press tour, and rightfully so. I've never seen anyone look so good in a kitten heel? Usually I'm not the biggest fan of them, but on JVN they're perfection.
Teaming the classic cigarette-leg pants with the zesty, sheer paillette blouse is an extreme mood too. What I enjoy about the Jonathan Van Ness vibe is that he's not afraid to play with gender norms through his style, by mixing traditional "male" dressing with so-called "female" elements. He blurs those lines and so he should, because who cares! We should be free to wear whatever we like, even if that's a mesh pair of kitten heels.
I'm really enjoying this look because LEOPARD PRINT BOOTS COME AT ME. Honestly, a whole separate article could be written just about Jonathan's boot collection, which surely number in the thousands by now. The man loves a statement boot and as a result, gives me insane boot envy.
I feel like JVN's face in that pic is very smug, as if he knows that frilled leopard boots teamed with black jorts and a pink sloppy joe is sartorial GOLD. That's a "nailed it" smirk if I ever saw one.
Here are the boots again (with a slightly different outfit), just 'cos.
Meanwhile, this next look is hot off the press from today, folks. It's currently pretty chilly in NYC as my boss who is working there at the moment informs me, and Jonathan is serving up trans-seasonal inspiration in this midi skirt and sweater combo. The long coat and skirt as so good together, with the colourful knit being the pop of colour every dreary rainy day needs.
Bonus points for the bag matching the jumper. *kissy fingos*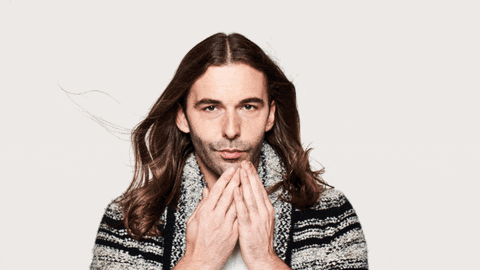 I'm thoroughly into this more casual look, because I'm all about comfort. How cozy do those crisp sneakers and slightly fuzzy lavender sweater look? I fear if I attempted this kind of thing I'd look like a deranged woman who was on my last clean clothes before laundry day.
JVN makes it so dang chic though. As a side note, the four of them look so tight! Bobby (who was in China this week) must be having so much FOMO.
I don't know if this press tour is still going but I'm just highly enjoying seeing Jonathan turning it UP for his TV and radio appearances. Keep the looks coming, hunny.
Image: Getty Images