If you thought the Internet might've finally learnt to stop trolling celebrities about their body weight, we're sorry to say that you need to think again, because Bella Hadid has just been body-shamed for the second time in a month.
The first incident came just a few weeks ago, ahead of the Victoria's Secret Fashion Show, when the model copped a load of shit after sharing this video of her pre-show fitting on Instagram:
"Victoria's secret? Starving! Apparently" wrote one user.
"Omg you need to gain a few. You look as unhealthy as Kendall Jenner. You models are scary looking and bad influences on the health of young girls" added another.
At the time, Bella responded by adding a note at the end of her caption which read "(all body types are different and react differently to a great workout routine and a healthy diet)" .
Now the haters at it again, ironically slamming Bella at the same time the model talks about how she's come to accept her body despite what others might think.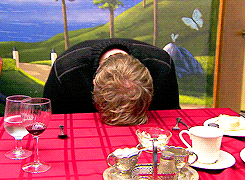 Bella recently did a swimsuit-glam video shoot for Love Magazine, which the publication then shared on Instagram:
The footage was accompanied with a quote from Bella explaining how her body confidence is now higher than ever before.
"When I felt most beautiful was in the past two years, when my health was at its best" the model recalls. "I just felt very comfortable in my own being, instead of looking for the person I should be through others."
But then the trolls, descended.
"You look disgusting girl" wrote one user.
"This isn't beautiful. She looks like a cyborg. She's so thin you can literally see her bones," added another.
A third went so far as to accuse Bella of being in denial about having an eating disorder:
"She is in denial trying to let people know she is happy and confident but deep down suffering an eating disorder."
My god. When will people learn to stop making such hateful and presumptuous statements about others' bodies and mental health?
Bella literally just spoke about her body confidence being higher than ever before, so that should definitely be taken into account. But also, if people were genuinely concerned for her mental health, the last thing they should be doing is leaving insulting, speculative comments on her pictures.
Image: Instagram / [@bellahadid]