fexofenadine_hcl started playing The Sims when she was in Year 5, as a way to explore sex at a young age "beyond just making my Barbies lay on each other".
"In middle school I played the same story over and over again: emo girl from a normal boring family gets with emo boy next door, also from a boring normal family. I was able to observe sex and romance. and fulfil my simple little fantasies, from the safety of my computer."
When robyngrayson was in Year 7, her classmate made a "sexy adult version" of herself, as well as the guy she liked at school. "She immediately had them fuck over and over until they died, while she stared completely blankly at the screen… I sat there asking if we can finally get started on the group project now."
Like fexofenadine_hcl and robyngrayson's Year 7 classmate, The Sims served as an undercover outlet for me to explore my sexual curiosities and desires.
I remember discovering my brother's Sims 2: Deluxe Edition CD around the age of 8. I marvelled about at Sims' nudity when jumping into the shower or bath and couldn't believe I was able to make Sims woohoo. And then woohoo again.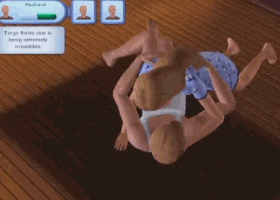 The Goth family turned into an incestuous cesspool filled with age-gap romances, making out and hybrid-alien sex.
Hidden behind my computer screen, and living in my own carefully-curated Sims 2 reality, I then began to project my pubescent curiosities and real-life questions onto the lives of the Pleasantview and Stangetown residents. I remember feeling intense satisfaction as each Sim relationship progressed from 'flirt' to 'kiss' to 'make out' to 'woohoo' then, to the showstopper, 'try for baby'.
Don't even get me started about the Capp and the Monty families – that was a clusterfuck of orgies, woohoos and illegitimate babies.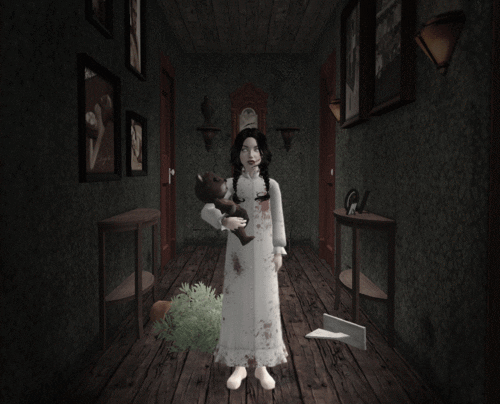 Above all else, though, all of my Sims demonstrated a sexual fluidity way ahead of their time. I remember feeling an intense urge to make two boy Sims kiss but, at the time, never questioned my underlying reasons as to why.
My experiences definitely aren't isolated; creating same-sex couples enabled its users to explore sexuality and gender by placing queer Sims in 'normal', albeit heightened, situations. Take phoebesmom601, for example:
"I had also made a same sex couple and it turned out one of them was a real dog. He had a live in boyfriend, another guy on the side and also had relationships with three or four ladies in town and had about 7 or 8 kids."
Such a dog.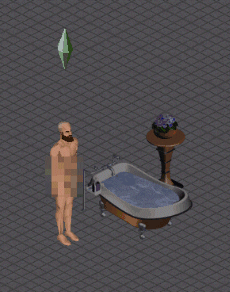 Many of us have a lot to thank The Sims for. For me, I learned about varying relationships, about polygamy and about promiscuous fantasies, subsequently allowing myself to unknowingly rebel against the monogamous, hetero systems I was taught in the classroom.
It also became a tool for my young self to exercise control within an otherwise-turbulent, pubescent period. Very Freudien, I understand, but you get me.
However, as eggsandbeans articulately points out, The Sims was also just virtual porn for thirsty teens.
"Watching [The Sims] gave me a boner that came out of my ear, flew round the room while performing seemingly impossible extradimensional contortions and shapes and then entered my pants like nothing happened. Hot."
Either way, whip out your laptop tonight, chuck in that disc and pay homage to the woohoos that defined a generation of socially-liberal, curious users.