After months of speculation and will-they-won't-they drama, HBO Max just dropped some BIG news: it's now confirmed that Chis Noth is set reprise his role as Mr Big in the Sex and The City revival. I gotta say, the drama around his return is very on brand for the biggest fuckboy to ever curse our screens.
"I'm thrilled to be working with Chris again on And Just Like That…," executive producer Michael Patrick King said in a statement. "How could we ever do a new chapter of the Sex and the City story without Mr. Big?"
That's what we were all wondering… mostly because it's great having someone to hate. Doesn't everyone crave the satisfaction of ripping on a man with shitty commitment issues who doesn't deserve the women around him?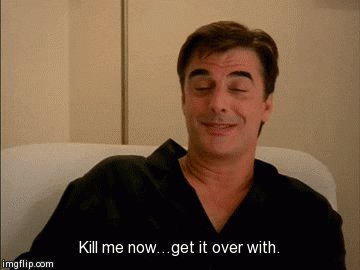 While the fate of Mr Big may have changed, Kim Cattrall will NOT be returning as Samantha for And Just Like That, and there's no Steve either. Which means there's no one to actually add any spice to the group.
When asked why Samantha wasn't going to be in the revival, HBO Max's Chief content officer Casey Bloys said that it's because the show will reflect "actual stages of life" and that it's not realistic for them all to be besties 17 years later.
"They're not trying to say that these characters are reliving their 30s. It is very much a story about women in their 50s, and they are dealing with things that people deal with in their 50s," he told TVLine in February.
"In real life, people come into your life, people leave. Friendships fade, and new friendships start. So I think it is all very indicative of the real stages, the actual stages of life … They're trying to tell an honest story about being a woman in her 50s in New York. So it should all feel somewhat organic, and the friends that you have when you're 30, you may not have when you're 50."
And I'm supposed to believe Mr Big really 'changed' and managed to stay in a marriage for nearly two decades? That's supposed to be realistic? Okay, Casey.
And Just Like That is set for 10 half-hour episodes, and while there's no release date, it's expected to start filming pretty soon. In the meantime, you can rewatch all of Sex and the City on Binge.