Two lesbian couple have become the first in Australia to legally tie the knot today, after being granted special consideration by the Births, Deaths and Marriages Registry.
Usually couples who intend to marry have to notify the government at least a month in advance, but the Births, Deaths and Marriages Registry can grant couples a shorter time period under special circumstances – like, for example, if half of your family has booked flights from overseas to attend your wedding.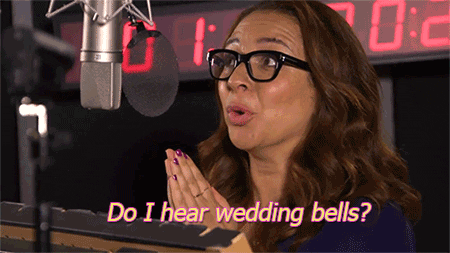 Because of the one-month waiting period, most gay couples who plan to marry in Australia will have to wait until at least January 9. Not so for these two sets of angels, though.
Both Sydney couple Lauren Price and Amy Laker and Melbourne couple Amy and Elise MacDonald had family flying in for commitment ceremonies that they had already booked, and were both encouraged by their marriage celebrants to apply to the Registry to have their civil ceremonies upped to the real deal.
Price's family had already booked flights from Wales to attend their gorgeous wedding in Macarthur Park (pictured in the lead image), and the MacDonalds (who, excellently, both coincidentally had the same last name even before getting hitched) had family flying in from Vietnam and the UAE.
It shows a heartening willingness on behalf of the government agency to get the ball rolling on making marriage equality a reality for everyone who wants to share that commitment with their partner.
Special consideration is not limited to having family come internationally, either. News.com.au reports that another same-sex couple, Cas Willow and Heather Richards, will marry in the coming week, with their shortening of notice period granted because Ms Willow has a terminal illness.
"I don't even know if I'll make it to Christmas, let alone January 9, so they allowed us to get married early," she told AAP.
Ms Richards said that they had only got engaged after the law passed on December 9, saying, "We are committed to each other, we didn't need to do a commitment ceremony to prove it. We wanted to do a wedding because it's equal, it's legal."
Now, she says, their remaining time together will be "complete".
It means our relationship won't just be tolerated, it will be accepted.
This is why marriage equality is so important. To all the same-sex couples who finally have the opportunity for their love to be legally recognised: congratulations, mates. We wish you all the happiness in the world.
Source: News.com.au
Image: Getty Images / Caroline McCredie