It's been a hell of a long time coming but Cardi B and Megan Thee Stallion finally performed WAP together live, and we were all blessed to witness it. Taking to the stage at the Grammy Awards this year, the duo slammed through a performance that made my hamstrings hurt, and saw them doing a family-friendly version of the hotties anthem of 2020.
Like a victory lap for Megan – who has already taken out Best New Artist, Best Rap Song, and Best Rap Performance this year – the performance was suitably wild, if entirely self-censored for the broadcast. Jaws were still absolutely on the floor, as is to be expected.
Let us at least be thankful that they finally ditched 'wet and gushy', which is arguably more visceral than that actual lyrics.
Megan kicked off the huge medley with renditions of Savage and Body, which saw her dripping in gold and diamonds while people literally got all jazz hands and tap dances around and with her. An absolute moment, I tell you what.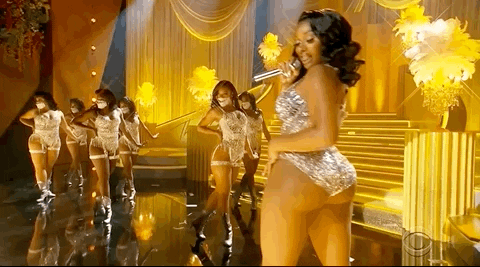 Cardi B then turned it out with a mind-bending performance of Up, taking it from one roaring 20s to another with massive graphics and green screen magic and blue-skinned dance troupe. It was like a straight-up fever dream and I'm absolutely going to have that song stuck in my head for the rest of time.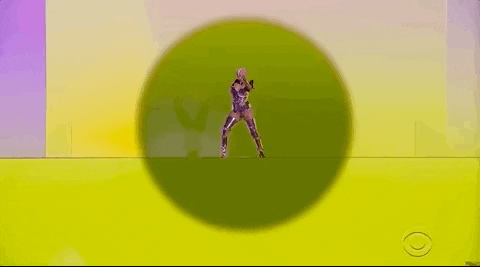 Things got larger than life – quite literally – when the two powerhouses joined together for the huge and hugely NSFW track, with things starting off with a massive pleaser heel and then taking it to a fucking enormous bed for a rendition of WAP that absolutely sent me.
It's obvious that everyone's been starved of performing over the pandemic months, because every since Grammys performance has just been beyond this year.
Please, just watch it. Take a good chunk of time out to watch this performance and then a bit more to process it.
.@iamcardib performs "Up" and "WAP" with Megan @TheeStallion at the #GRAMMYs. pic.twitter.com/mZATt92Xi7

— Pop Crave (@PopCrave) March 15, 2021
As is to be expected, the internet lit the fuck up during Cardi B and Megan's performance, and how wildly uncomfortable the panellists and translators on Korea's MNet were during the whole thing.
me during that "WAP" pic.twitter.com/vdTZqjwugw

— rob sheffield (@robsheff) March 15, 2021
Post Malone watching WAP live is me. pic.twitter.com/nhi6RAF4g3

— . (@hosthetics) March 15, 2021
THE KOREAN PANELISTS HAVE STOPPED TRANSLATING (during WAP ????) I CANT BREATHE LOOK AT THEIR FACES?#?#?## ???????? pic.twitter.com/DOFyuKz9kt

— #JIMIN⁷ (@ikigaiipjm) March 15, 2021
Korean panelists listening to wap: pic.twitter.com/aiu0aBbBEo

— michi ★ (@Y00NGi_Zzz) March 15, 2021
Though the whole performance was censored for broadcasting on TV, some sharp ears noticed that the duo didn't self-censor the Portuguese lyrics in the Brazilian remix, which when translated are definitely not safe for work.
it's the way they censored the whole wap song except for the brazilian part because it's in portuguese and they have no idea of what fica de quatro means pic.twitter.com/IgCpygkuFo

— birthday girl clara (@AFVTERGLOW) March 15, 2021
Well played. Very well played.
Image: Getty Images / Kevin Winter