Almost everything I do in life is influenced by music. I love listening to it, I love playing it, and I love watching it live. I'm certainly not alone, either – there are a ton of people out there who love music as much as I do, and regardless of the genres we stan, the passion is incredibly important to us.
If you're not one of these people, though, it can be hard to channel the gift vibes when it comes to the music-lover in your life. What do you get someone who probably already has all the music necessities they use on the reg? Here are a few ideas for both gift-buyers and music fans looking to drop some subtle hints on their loved ones, including some premium and budget options.
1. Personalised plates
For the music fan who wants just about everyone they meet to know, you can now get personalised number plates in NSW with a musical tinge via myPlates.
Available in a bunch of different styles including electro, rock, country, jazz, or just a genre-less display of musical notes, there's sure to be one for your mate's particular flavour of ~musical flare~. We've all got a mate who reckons they're the world's next big DJ, so why not pump up their ego with a set of these?
The beauty of these bad boys is you don't have to choose custom letters and numbers (that have an annual fee) to show what you're into, the style says it all, so you can restyle an existing plate without burdening anyone with costs down the track. You can suss out more styles right here.
2. Gig vouchers
If you know someone who loves music, chances are they also love seeing it live, so a gig voucher is a sure-thing when it comes to grabbing the right gift.
Heaps of different ticket outlets offer vouchers, so you have a lot to choose from. My advice would be to use the gift recipient's gig history as a guide for which outlet you should purchase from. You could even have a scroll through their Facey-B or Instagram accounts to see what they've been to if you don't know off the top of your head.
If they go to a lot of gigs at a certain venue, for example, check out which outlet handles its ticketing and go with a voucher from there. Easy.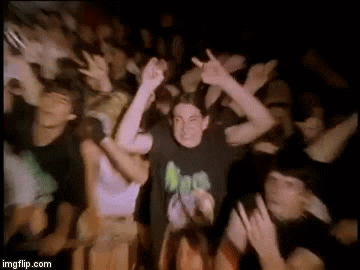 3. Primo headphones
If this particular person is really special to you, splurging on a pair of top-notch headphones/earphones will give you max brownie points for days.
Take note of what they usually use and go from there. Do they like headphones over earphones? Are they into the noise-cancelling stuff? Is aesthetic important to them? All important questions which will shape your potential purchase.
In terms of quality, you wanna look at mid to high tier items by brands like Sennheiser, Bose, Sony, and so on. If you really wanna impress them, you could gift them a pair of Nuraphone headphones, which actually tune to the unique way your ears hear sounds. They're pricey, clocking in at $549, but they're incredibly worth it.
4. Music store vouchers
Whether it's just JB Hi-Fi to stock up on CDs and records, or an actual musical instrument store to suss out some new gear, vouchers for a store your pal frequents is an easy gift to grab.
And honestly, it doesn't even matter if it's small, because we'll damn well find something we need. Hell, $30 is a set of guitar strings or two.
5. Merch
Do they have a favourite band? Buy them some merch. Most bands will flog their wares via online stores, so just suss out where it's on offer and grab a shirt or a hoodie or whatever you think will float their boat.
As someone who has at least 5 band t-shirts in my clothing rotation at any one time, it's a winning gift for sure.
6. Vinyl stuff
Records have made a big comeback over the last 5 years or so, so a lot of music fanatics will likely have a vinyl collection they're very proud of. Even if they don't bust out the record player a whole lot, having and maintaining a collection is just a nice little hobby.
I listen to most of my music on the go, so services like Spotify are more my speed on the reg, but I love collecting records that I really like, so vinyl is always a cool gift idea if you're stuck in a rut.
And if you're not sure what to buy, record player gear is also an option, even if it's just a maintenance set or something like that, it'll certainly be appreciated. But if you really wanna impress them, why not get a record player? A good quality Sony turntable will cost you $299, but keep in mind the recipient will also need to grab an amplifier and speakers for it to work.
Whichever way you choose to strike a chord (ha!) with your music-loving mate, Christmas is just around the corner, so it's a good time to start investigating their tastes. Hop to it.