I think we're all fully aware that exercise equals very, very good for you. In fact, Australian Government guidelines recommend adults get at least 30 minutes of moderate exercise, five days a week. Here's the catch: not everyone likes the gym, and it's bloody hard to stay active when you hate what you're doing.
You know what everyone LOVES? Dancing.
In fact, in my highly untested theory, everyone would dance all the time if they weren't worried about how they looked. It's a crying shame that a little self-consciousness can stand in the way of you and a purely joyful time. So how do we make the whole thing less intimidating so you can feel comfortable and get moving?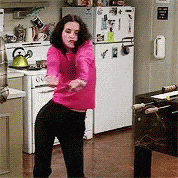 Turn Out The Lights
What easier way to dance like nobody is watching than to turn off the lights so literally nobody can watch? There's always the option of lowering your blinds and locking your bedroom door to just let loose. A great option, I can attest. Then there are times you just want company, you know?
Which is basically how No Lights No Lycra (NLNL) started in Melbourne and spread around the world. These sober, do-what-you-feel dance events provide a welcoming space for all, and turn the lights off so you can express yourself through movement without worrying about what people might be thinking.
Remember The Health Benefits
Really, doesn't your health trump feeling a little silly? If you need a little motivation beyond your fitness, how about the fact the Department Of Health states regular exercise has been proven to reduce the risk of a number of health problems, including cardiovascular disease, type 2 diabetes, anxiety, depression and even some cancers.
This is hefty. The more you move the better, obviously, but Sports Australia, The Heart Foundation and the Australian Medical Association all agree that at least 30-minutes of activity on most days of the week will put you in a pretty healthy place.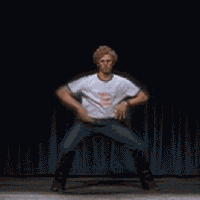 Find Like-Minded People
For when you want to get out in the world, it's important to find a place where you feel welcome and surrounded by completely non-judgemental dance fellows. Whether you love them or hate them, you have to admit it's pretty damn rare to find a nightclub that fits this bill.
This is yet another reason lights-off dance parties like No Lights No Lycra are so damn popular. They're inclusive, attracting people from 17 to 90 years of age from all walks of life and abilities, which is pretty cool in itself. Add to that you're with a bunch of people who are trying to improve their health while having a bunch of fun doing it, and you're laughing.
Realise Everyone Looks A Little Odd
True story, my dance moves can only be described as reminiscent of those Whacky Inflatable Arm Men. There are limbs everywhere and I'm getting so into it I'm sweating up a storm. Do I look good? Absolutely not. Am I having a damn good time? Hell yeah. Has anybody ever come up to me and been like 'you look ridiculous, you should really stop'? Of course not.
Really though, even good dancers who move with a grace and attitude that is mesmerising look kind of odd when you think about it. They're doing some truly strange things with their bodies, they're just doing it with such confidence and rhythm they're making it look like a dream.
My point? Everyone looks a little weird. Lean into the awkwardness!
Feeling inspired to get grooving? No Lights No Lycra is celebrating a decade of improving health and happiness in the dark with 10th birthday events around the country between the 26th and 29th of July. The best part is they'll be free, thanks to Medibank jumping on board to support the cause. Find your closest one here.