In case you missed it, Marvel announced a buttload of huge things in Hall H at Comic-Con yesterday. Too many to list right now, but for a detailed rundown on everything they've got coming up, click right HERE for our wrap-up.
[jwplayer 0guRQoL8]
One film that has stirred up a LOT of excitement is Thor 4, official title: Thor: Love And Thunder. Even the logo is fucken sick, LOOK:
Adding to that the fact that our lord and saviour Taika Waititi is returning to direct and Natalie Portman is back as Jane Foster and will be wielding the hammer as female Thor, it's almost too much to bear — almost.
There's also the fabulous details that Tessa Thompson will be returning as Valkyrie, and she'll be the first openly LGBTQI hero in Marvel history. My god, do we stan.
According to Gizmodo, Marvel uber-boss Kevin Feige confirmed at Comic-Con that Valkyrie would have a queer storyline in the next film, after a scene hinting at the character's bisexuality was cut from the last Thor film. "The answer is yes. How that impacts the story remains to be seen with that level of representation you'll see across our films, not in just Thor 4."
Kevin, YES.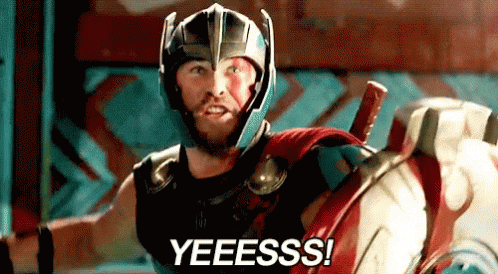 Valkyrie was low-key the standout of Thor: Ragnarok (sorry about it, Oscar winner Cate Blanchett) so it's awesome that she's gonna come back bigger and better in the next film. Thompson herself is stoked, and at the Marvel panel gave fans a little teaser of what's to come for her character. "As new king, she needs to find her queen. That will be her first order of business. She has some ideas. Keep you posted."
Apparently fans attending the panel lost their shit when Thompson said that, and honestly even though I'm at my desk in a quiet Sydney office I want to scream too. Unfortunately we have to wait until Thor: Love And Thunder is released on Nov 5, 2021 to see how it all plays out. Countdown timer starts now.