The world is filled with heinous news, now more than ever, but here's some not-so heinous news to kickstart your morning in quarantine.
At long last, Law & Order: SVU's complicated daddy Elliot Stabler is set to return to the franchise in a spinoff of the long-running detective drama and DUN fucking DUN.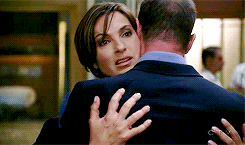 same, liv
The Hollywood Reporter reveals actor Christopher Meloni will reprise his role as Detective Stabler in a new drama series from procedural king Dick Wolf.
The untitled SVU offshoot has been picked up straight-to-series at NBC with a 13-episode order.
The series is the first to stem from Wolf's recent massive five-year, nine-figure overall deal that included multiple series orders for various platforms within the NBCUniversal fold.
The new series revolves around an NYPD organised crime unit led by Stabler.
But the big question is, will he reunite with his long-time partner, Olivia Benson (Mariska Hargitay),who is now Captain of the unit that raised him?
Well, the publication adds that the new cop show is set in New York, which paves the way for crossovers with SVU and a long-awaited reunion with Benson.
Following Meloni's departure from the Law & Order fam in season 12, he went onto star in multiple series including Syfy's Happy and Fox comedy Surviving Jack, among others.