Universal crush Scarlett Johansson and Saturday Night Live co-head writer/anchor/straightest teeth on TV Colin Jost are gunna get extremely hitched after dating for two years.
As reported by the Associated Press, ScarJo's publicist broke the news, saying that the couple popped the question over the weekend in private. Although there's no set date for the "I dos" to happen just yet, I guess it's time to take down that poster of Scarlett Johansson (or Jost? I'm not judging you) and sadly fold it up, your chances are slim to none now, mates.
The loved-up pair were recently spotted together on the red (purple?) carpet premiere of Avengers: Endgame, celebrating Scarlett's success as the ultra-badass Black Widow.
Scarlett and Colin have been together since 2017, and rumours of the pair dating swirled from around the time Scarlett hosted SNL for the fifth time back in 2017, with Kate McKinnon apparently playing Ultimate Matchmaker.
It wasn't until later in 2017 that Colin actually spoke publicly about his girlfriend, and said that they'd actually met the first time she'd appeared on SNL, which was waaaay back in 2006 (prob when Scarlett Johansson was dating Ryan Reynolds, who she'd go on to marry in 2008.)
Anyway, Colin and Scarlett became official Hot Property™ in late 2017, when they appeared together at the American Museum of Natural History gala, and then made their first red carpet appearance as a couple at 2018's Avengers: Infinity War premiere. Bless.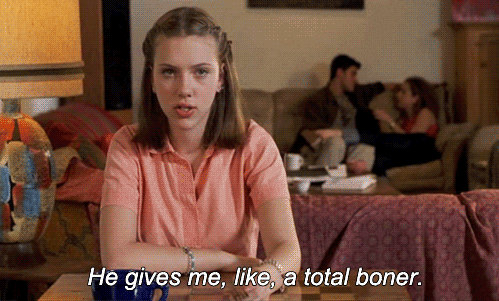 Well, there you go! Scarlett Johansson has officially said yes to her comedy news anchorman who has a haircut you can set your watch to. Between that and the whopping success of Endgame, she's having a cracker of a year.
Now we wait for the wedding, where I assume the entire Avengers gang will be in attendance. Imagine being at that reception watching Chris Evans get phenomenally smashed on champagne and carving up the dancefloor. My God.
Source: AP
Image: Getty Images / Amy Sussman