Married At First Sight has really kicked the sauciness up a notch this week, and it's only bloody Tuesday. First we saw Jessika Power and Dan Webb finally cop to the fact that they'd been having an "affair" behind the backs of their respective MAFS matches Mick Gould and Tamara Joy, and then in last night's episode, the pair took things to the, ah, next level.
[jwplayer aNeNxIUJ]
That's right, Jess and Dan did the dirty, right there on telly. It truly was a sight to behold.
Before he dived under the covers with Jess, Dan told the MAFS camera: "I've been fighting urges to obviously be with Jess from day one, you know. So definitely getting intimate tonight with Jess would top off a perfect day." Excuse me while I vomit politely into the nearest bin.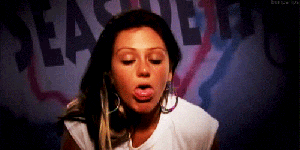 Many MAFS viewers were put off their dinner, taking to Twitter to ask why we all needed to see that.
I feel so sorry for the cameramen who have the wretched job of filming Jess and Dan in that bed 🤢🤢 #MAFS

— Maddie (@prythians) March 25, 2019
I really did not need to see Dan and Jess jump into bed together #MAFS

— 🍸🤷🏼‍♀️👌 (@tweetsnotbyme) March 25, 2019
But it turns out no one is more disgusted by the pairing that Jessika's devout Christian parents. Yep, apparently the entire family is as committed to Jesus as they are to neck tattoos.
Speaking to Today Extra this week, Jessika confessed that her folks have the shits about her behaviour on MAFS. "My family come from a very Christian background and they were watching it back just going, 'Jess, come on, this is not you'," she said in the interview, according to the Daily Mail.
Jess reckons that her folks went on to say: "'This is not your morals. This is not how you were brought up'" and also: '"Where's our parenting gone?'"
In an interview with Chrissie Swan, Sam Pang and Jonathan Brown on Nova 100's Melbourne breakfast show yesterday, Jess and Dan said they were ashamed of the way they'd acted on MAFS, with Jess saying: "We can accept what we've done is not the right way to go about it, but we want everyone to see how happy and in love we are."
I think we copped an eyeful of it last night, thanks doll.