Seems like everyone has formed an opinion on the content of Kanye West's new album ye including his missus Kim Kardashian who is clearly the focus of at least one of the songs, Wouldn't Leave.
In the track, West recalls his reality star wife's reaction to those polarising slavery comments he made on TMZ Live last month.
"My wife callin', screamin', say we 'bout to lose it all / Had to calm her down 'cause she couldn't breathe / Told her she could leave me now, but she wouldn't leave."
Now in a V. candid interview with ET at the 2018 CFDA Fashion Awards, Kim revealed that she wasn't even allowed to hear the track until the very last minute and apparently it caused some friction between the two.
"Did I cry about it? Did I fight about it? Yeah. That's not stuff we put on social media — I'm not going to start tweeting what my thoughts are, but we have those moments and that was the one song that he didn't really play for me until the last minute, so I heard that last minute and it meant a lot to me."
Here's a lil visual of what that convo would've looked like: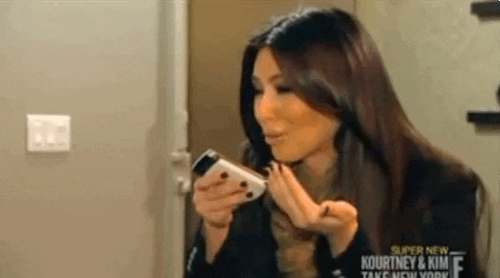 Kimmy K went on to explain that Ye usually makes her part of the recording process and asks for her thoughts and feels on his music.
"I was in the room for making all of the songs and hearing things and it's a really fascinating process, especially since he scrapped his whole album and redid it in the last two weeks and just came up with all new songs. I left to go home for, like, two days and then I come back and it was a whole new album. It's fascinating to see the process."
But despite all the drama and the fact that their marriage has been put under the microscope in his music (as if it wasn't already), Kim is stoked that for the most part, people are loving ye.
"I'm so happy that it's been well-received because I've seen him go through a lot and he's just the most genuine person. He might say things that might get misinterpreted and people don't see the context behind it, but I always know his heart, so I'm glad that it was really well-received."