For months now, The Good Place actress Jameela Jamil has been consistently slamming celebrities who endorse flat tummy teas and other weight loss products but her focus has mostly been on the Kardashian fam, namely sisters Khloé Kardashian and Kim Kardashian.
In the past she has told Kim to "fuck off", she's called Koko "sad" and "irresponsible" and she even started a petition to try and stop paid celebrity endorsements of detox and diet products.
Now, the Kardashian kamp has finally responded to her ongoing attacks and the general consensus is that they're extremely unbothered by Jamil's criticisms and will continue promoting the shitty shakes.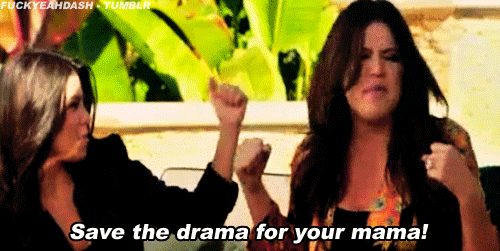 In an interview with the The New York Times, when asked about Jameela's angry tweets, Khloé responded, "I don't live in that negative energy space. Ninety percent of people will be really excited about the family and the journey and who we are."
Khloé disputed Jameela's recent claim that the sisters use a personal chef and adds that she shows fans how to workout via her Snapchat.
"Well, listen, I am showing you what to do, silly person, 15 repetitions, three times, here's the move…"
No. Fuck off. No. You terrible and toxic influence on young girls. I admire their mother's branding capabilities, she is an exploitative but innovative genius, however this family makes me feel actual despair over what women are reduced to. ☹️ pic.twitter.com/zDPN1T8sBM

— Jameela Jamil ???? (@jameelajamil) May 16, 2018
Her sister Kim then talked about the finical motivations behind their paid endorsements, saying that the reason why they choose to promote these products is basically because it's easy money for them and they don't need to get off their famous backsides to do anything.
"If there is work that is really easy that doesn't take away from our kids, that's like a huge priority, if someone was faced with the same job opportunities, I think they would maybe consider. You're going to get backlash for almost everything so as long as you like it or believe in it or it's worth it financially, whatever your decision may be, as long as you're O.K. with that."
Now here's me waiting for Jameela's inevitable clap back: