Channel Ten is having a real time of it at the moment with crossover stars — we saw Angie Kent seamlessly go from Gogglebox fave to I'm A Celebrity, Get Me Out Of Here! contender to one of the best Bachelorettes of all time, Adam and Symon have left Gogglebox but there's rumours they will pop up on I'm a Celeb and even Masked Singer MVP Lindsay Lohan is rumoured for the South African jungle. Hold my neck, I've got whiplash.
The latest switcheroo coming out of the rumour mill is that The Amazing Race Season 4's resident young whippersnappers Tom Wilkinson and Tyler Roos might plonk their asses down on a Gogglebox couch once they're done racing around Africa and southeast Asia.
The eagle eyes over at the Daily Mail spotted some comments on Instagram that certainly hint that the pair would be interested in a stint on the hit Ten / Foxtel crossover series, which involves watching ordinary Aussies as they watch TV. Weird concept, not everyone loves it, but here we are.
On a pic of the boys on Tom's Instagram, a fan named Jacqui suggested they make the move:
Tom replied, totally backing the idea:
And adding fuel to the fire, both boys "liked" old mate Jacqui's comment.
While the pair — who famously both gave up blossoming AFL careers to take part in The Amazing Race, with Tyler's dad being legendary former Sydney Swan, AFL Hall of Famer and FOX Footy personality Paul Roos — are arguably great on that show, having won 8 challenges, are they fun / funny enough fo the Gogglebox couch?
As funny as Adam and Symon, who fans are still mourning the loss of?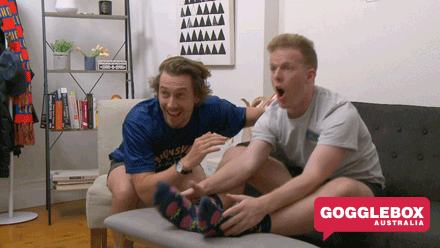 Time will have to tell.
Image: Channel Ten