The epic documentary based on Real Housewives of Beverly Hills star Erika Jayne and her lawyer ex husband Tom Girardi, titled The Housewife and the Hustler, was released over in the States yesterday and it was packed full of tea.
Now, one day after the release of the doco, the legal team representing the reality star have reportedly dropped her due to a lack of "trust and confidence."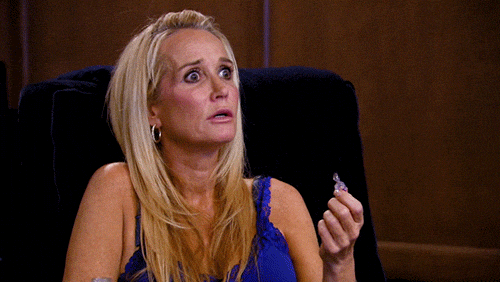 According to court documents obtained by Radar Online (two words that'll be very triggering to any RHOBH fan), the law firm Dinsmore & Shohl LLP reportedly asked the court to allow them to withdraw as Erika's counsel.
The firm has been instrumental in helping Erika Jayne in the fight against the trustee in charge of her ex husband Tom's bankruptcy case, but they no longer wish to be involved.
The documentary fast became a viral topic of conversation on social media yesterday with everyone posing the same question that podcaster Heather McDonald asked in the film: "Did she know?"
The allegations levelled against Tom Girardi became public knowledge last December after he was sued for alleged financial malfeasance months after Erika Jayne announced she was filing for divorce.
The suit alleged that Tom had stolen from "the widows and orphans who lost loved ones in the tragic crash of Lion Air Flight 610 — in order to continue funding his and Erika's lavish Beverly Hills lifestyles."
The lawyer is accused of stealing millions of bucks from Joe Ruigomez, a guy who won a lawsuit when their house blew up. Girardi allegedly promised to dispense the settlement money to them monthly, however, the mediator in the lawsuit tells ABC News that Tom's claim that the payments should be monthly is "false," and he was "unaware of Mr. Girardi's actions."
Tom allegedly stopped paying the money entirely in January 2017.
There's no word on when it's gonna drop in Australia just yet, but have a read of our recap of all the juicy details that were revealed during the true crime doco of the year.
Meanwhile, the trials and tribulations of Tom and Erika's marriage is being discussed on RHOBH which is now streaming on Hayu, with new episodes dropping every Thursday.
Matty Galea is the Senior Entertainment Editor at Pedestrian who also dabbles in woo-woo stuff like astrology and crystals and has been penning horoscopes since the start of his career. He also Tweets about pop culture and astrology and posts spicy content on Instagram.