Us Aussies are known for our sense of humour and our ability to take the piss out of ourselves in spectacular fashion but if there's one group that has us beat in the LOL department (or at least at an even tie), it's the Brits.
The British have been nailing comedy since the dawn of bloody time, dating back all the way to the Shakespearean era, so it's no wonder that they've churned out more epic comedies in the past few decades than the Royals have churned out scandals.
So if you're in need of a good thigh-slapper to whack on to brighten your day, we recommend these jolly good British comedy series.

cheers to that, sweetie
If Elizabeth is the Queen of England then Tracey Ullman must be the Queen of British Comedy so bow down 'coz all three seasons of her award-winning series Tracey Ullman's Show is now streaming on Stan.
Not to be confused with The Tracey Ullman Show, her beloved '80 series that introduced the world to cartoon juggernaut The Simpsons, this sketch show is a modern rendition that offers a hilarious glimpse at British life from its locals to its tourists to its celebs.
Prepare to belly laugh as Ullman takes on the likes of Dame Judi Dench, Theresa May, Angela Merkel and more.
Ullman as Dame Judi Dench taking the bus
The series was so successful, in fact, that it scored three Emmy award nominations and took out the award for Best Makeup Design at the Royal Television Society Awards and after seeing how Ullman transforms into several hilarious characters, you'll totally understand why.
One of the most recognisable faces in comedy, Catherine Tate has not one, but two (2) epic skit shows to enjoy.
The first being The Catherine Tate Show where she embodies several iconic characters including Lauren Cooper (the unbovvered teen derro), the Aga Saga Woman (the privileged rich woman who is constantly in a state of shock) and Joannie 'Nan' Taylor, the sassy and foul-mouthed granny, and several others.
The Nan character received so much acclaim that she scored her own spinoff, bless her, titled Catherine Tate's Nan which is also available to stream on Stan.
Little Britain is THE quintessential sketch show, best known for putting A+ comedians Matt Lucas and David Walliams on the map.
The series features non-stop sketches where the iconic comedy duo portray a bunch of quirky characters who reappear in every ep which is perf because you'll easily become obsessed with their ongoing gags.
For example there's the Scottish flute-wielding hotel owner who perplexes guests with his wacky riddles.
Then there's the foul-mouthed Vicky Pollard, a local teen who finds herself in various sticky situations from becoming knocked up to being arrested for shoplifting.
But as epic as their solo scenes are, when the two comics come together it's pure fkn magic like the Lou and Andy skits where they play dysfunctional besties.
Edina Monsoon (Jennifer Saunders) and Patsy Stone (Joanna Lumley), the sweetie darlings of comedy, are equal parts hilarious and, as the title suggests, Absolutely Fabulous.
The dynamic duo always bring the LOLs with their bumbling antics (Eddy's inability to exit a car gracefully, for example), their penchant for booze and their snarky attitude from which no one is safe.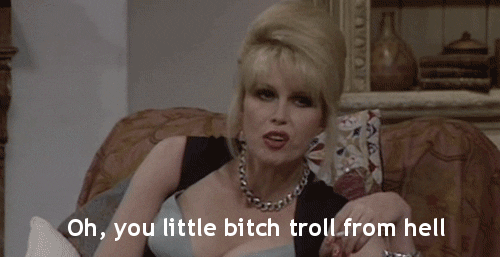 Exhibit A… Poor Saffy (Julia Sawalha)
In addition to its wild and outlandish storylines and shenanigans, you'll absolutely (hehe) love the vast array of guest stars including Naomi Campbell, Emma 'Baby Spice' Bunton, Helena Bonham Carter, Idris Elba, Richard E Grant, Whoopi Goldberg, Kate Moss, Debbie Harry, Sir Elton John and many more.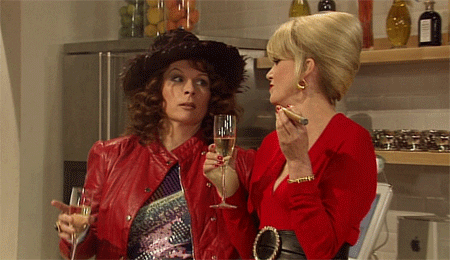 Fancy a sitcom? You can't go past cult fave The Inbetweeners, created and written by big legends Damon Beesley and Iain Morris.
This coming-of-age series follows a gang of awkward high school students as they navigate their way through adolescence with relatable experiences like dating, cringey sexual encounters, mateship, learning to drive etc.
The Inbetweeners scored the Audience Award at the British Academy Television Awards 2010 as well as the award for Outstanding Contribution to British Comedy at the 2011 British Comedy Awards and was nominated for Best Situation Comedy at BAFTA twice.
It later copped two movie adaptations which extended the hilarious misadventures of this unfortunate but loveable group.
And of course no British comedy list would be complete without an offering from Rowan Atkinson, namely his beloved series Blackadder.
Each season of this epic '80s series is set in a different era where Atkinson's character Edmund Blackadder is a member of a different British family dynasty.
History buffs will get a kick out of this one for its old timey-looking locations and olden day get-up. The characters also use Shakespearean dialogue which has a hilarious effect, especially when they screw up the language or use it in irreverent ways.
Blackadder also stars a host of other incred comics such as Hugh Laurie (above), Stephen Fry, Tim McInnerny and Tony Robinson.
The series has copped a load of accolades such as ranking second in a BBC TV poll for Britain's Best Sitcom so if ya love UK comedy, defs check this bad boi out.
Comedy legends Julian Barratt and Noel Fielding bring their Mighty Boosh magic to the small screen with this award-winning series.
The Mighty Boosh is a surreal comic fantasy series mixed in with show-stopping musical numbers that are as catchy as they are hilarious.
It centres on the adventures of Howard Moon (Barratt) and Vince Noir (Fielding) who get up to a series of wacky adventures.
In addition to the musical numbers are plenty of spicy animated sequences, puppets and special effects. It's an absolute hoot and a half, I tell ya.
If you don't instantly recognise this face, we simply cannot be friends.
Keeping Up Appearances is a British sitcom about a sassy old woman named Hyacinth Bucket (Patricia Routledge) who is desperate to abandon her lower-class upbringing and appear to be a member of high society.
The hilarity of the series lies in Hyacinth's fruitless attempts at seeming posh such as constantly telling folks that her last name is pronounced Bouquet but spelt Bucket and pretending not to know her lower-class fam when she bumps into them in public.
The series is perhaps best known for its epic one-liners such as the following: