It's almost that time folks. The glorious time that Sydney lights up with floats and glitter for the Gay and Lesbian Mardi Gras Parade down our iconic Oxford Street. In 2019 organisers are predicting over 300,000 attendees, so the question is: how many of those punters are actually meant to be at work?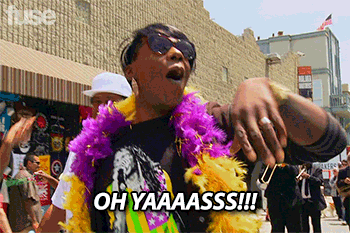 Workforce management platform, Deputy, released the data on just how many paid by the hour Aussie workers have put down the parade night as unavailable/ will be chucking one glitter fueled sickie.
On an average day, 16% of hourly-paid workers across the country mark themselves as unavailable. But on this most fabulous of weekends? 18.5% of the workers IN SYDNEY ALONE have already counted themselves as absent on Saturday aka. the day of the famous parade. And the day after? 17.%5 of Sydneysiders working for an hourly wage have clearly admitted they'll need the day off to nurse the rainbow hangover from the night before.
To be honest, I would be doing the same so I respect your choices legends. Party hard.
Despite the increase to people dipping out for the weekend, Sydney business are actually increasing the number of shifts for Sydney's most fabulous weekend, taking the total number of hours worked to 151,401 hours, which is a whopping 22.7% increase from your average weekend from last year.
Image: iStock Images / [Jodie Barker]