It's 6/9 today (nice) and what a better day than today to talk about a very adults-only food festival that's hitting Sydney's Imperial Hotel in Erskineville for a month.
From Monday September 10 the culinary cunning linguists are serving up very fancy food in deeply suggestive and cheeky ways. Honestly there's so many jokes to make here that I'm quietly overloading.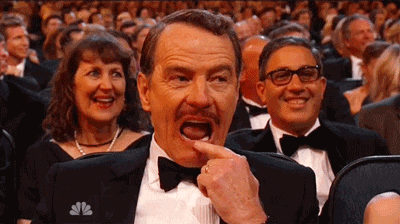 ROOD FOOD is the newest month-long food fest from the inner west hotel of mischief and the first instalment, Bone Appetite and the Oral Outhouse, blends sexuality, food, decadence, and rightfully-raunchy drag performances from Krystal Kleer and Coco Jumbo. It'll tickle every bone in your body and rub you extremely the right way.
The elaborate, amplified version of the Imperial's popular Drag 'n Dine concept will also feature a pop-up glory hole that will treat daring diners an extra little treat if they're brave enough to have a peep (not that, you pervs.)
So what's on the menu? Well, strap on up and in because it's genuinely going to be pretty bloody risqué and maybe a little NSFW.
Ranging from The Pearl Necklace (shucked rock oysters with lime granita) to Grandpa's Rabbit & Bachelor Balls (slow-cooked carrot with parsley root puree and spiced zucchini balls with ~splooge~ dressing) through to sweet treats like Panna Knockers (literally panna cotta moulded into jiggly norks with fresh raspberry nips) and the Gay Time Gag Ball (salted caramel & buttercream ice cream with dulce de leche centre and coated in nuts), you'll likely be drooling for more – and maybe want to have a peek inside Priscilla's Box for some extra sweet treaties.
Tickets are going for a very nice $69 per person for the whole rendezvous, and the dinner-and-a-peep-show is on every Monday and Wednesday night until October 10. Bottoms up, book a seat at the table, and maybe don't tell your parents.
Pedestrian Bites offers the latest Australian food news including the best cafes, brunch spots, restaurants and bars and the latest food trends.
Image: Supplied