PEDESTRIAN.TV has teamed up with Busabout so you can travel where you want, when you want, how you want with who you want.
If I had a dollar for every time I've been lost and/or nearly died in a foreign country, I'd have exactly 21 dollars. I'm not the most aware person at the best of times.
That being said, all of my favourite stories have stemmed from getting lost in one way or another – it's amazing what you can find when you're desperately running around a city trying not to cry while you decide whether you can afford to eat with the 25 cents you have left. Ugh, I miss travelling so much.
Anywho, it seems that every man, woman and dog who has ever been to Europe has a story about unintentionally wandering off the beaten track, so if you needed any more of a reason to book your next flights pronto, have a squiz at some stories from people who have lived to tell the tale.
1 . When one door closes
I got fired from my job in London and La Tomatina was a couple of days later. All the flights, buses and trains were booked out, so we went on Gumtree and found a car full of people going. That was a horrific 16-hour journey because they were boring as batshit, but at La Tomatina there was a group of six New Zealanders staying at the campsite and I ended up travelling Europe with them for the next fortnight. – Chantelle
2. I've got a bone to pick
I was in Rome a couple of years back and I wanted to go to the cool 'Fitzroy' part of town where they have good food, live music etc. It's not really a tourist area and after many language barriers, a local pointed me in the right direction. The only issue was that it was literally a hand sign saying which way to go and little did I realise it was about 5km away.
So off I go on foot and along the way, I stumbled into a church. When you're in Rome, churches are pretty sick so why not have a geez right? Anyway, when I get inside, I realise that the entire walls, ceilings, fucking EVERYTHING is made out of BONES….human bones. so after that, I got to the district that I was looking for (it's called Trastevere) and it was the fucking bomb. Great nightlife/food/fun. The worst part was then getting home in the dark – I walked the wrong way. – Blair
3. A midnight in Paris
I was in Paris, drank a few too many pints of Guinness, ended up on my own at the end of the night (4am) asking strangers, 'Oooo ey la Notraaa dayyumm' (We were staying near Le Notre Dame). After being kindly guided by annoyed Parisians all the way home… (could have been a two-hour walk, no idea) I was 50m from my hotel destination when I tripped over and cracked my head on some beautiful cobblestones. I ended up waking up 12 hours later on a stretcher in a hallway of an unknown hospital with a golfball sized egg on my forehead and egg (Guinness) on my face. – Sam 4. Nice lil surprise in Nice
I did the whole euro trip after high school. One of the places we went to was Nice. One night after a random dip in the Mediterranean, my friend and I were meandering back to our hostel but stopped short when we heard the chants. We followed the sound of drunk Aussies to the coolest little hole in the wall bar called Wayne's. Packed to the brim. Within five mins you were sweating bullets and in another five mins, you didn't even care. Great music and the most fucked Long Island Iced Teas I ever did have. – Georgia
5. Sex & props & rock'n'roll
I was at a gig in Berlin a few months ago held in this old office building. There were like eight stories in total, but only the top floor was for the party, and there were only two bathrooms. Not long after I got there I absolutely could not be bothered waiting in line to go to the loo, and so I went on a mission to find a bathroom on another floor. I took the fire stairs down to level six, and found that the entire floor had been taken over by "nomads". In all honesty, I'm not sure if they actually were nomads, but in a conversation with one of the bouncers he called them nomads so I'm taking his word as gospel.
These nomads were holding a small market stall in the tiny foyer of this particular floor of the office building, where they were selling heaps of incredibly elaborate costumes. I was permitted to use the bathroom as long as I gave them a small coin donation, and of course, after I did my business I went on a little peek throughout the rest of the floor with a friend of mine. Each room was filled to the brim with more costumes, props, lit candles, sex toys and even a copy of the Kama Sutra. It was great.– Jack
6. The 'this is probably not safe but okay' starter pack
I was on a Busabout trip in Europe and on a night out in Rome at about 3am in the morning we went looking for food. There was a McDonald's across the road so we just walked over there from the hostel, but just as we got there it was closing! Then we met these people, who were in their car in the drive-thru and they offered to drive us to get food. So the three of us just got in this random car and then he started driving away, but like really far.
At this point, we realised that none of us had phones or money or any idea of what the hostel we were staying at was called. Anyway, the random dropped us in this weird street and told us to walk down the road into the weird alley, climb down the stairs and then there would be a 24-hour bakery. Turns out he was right! Then we literally spent about three hours walking around the middle of Rome looking for a taxi driver who knew the hostel we were describing and trusted us enough to drive us there for free and we would pay him when we got there. It was a very weird night but one of the best adventures I have ever had! – Nicola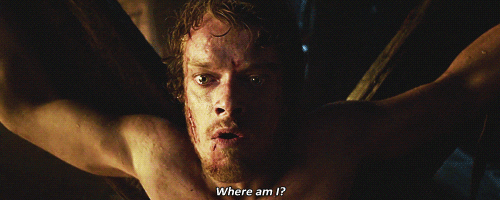 If getting into a random car in Nice sounds right up your alley because you have a severe disregard for safety and your own general wellbeing, get your ass over to Europe right this second. Can't get the annual leave off? Fake your own death for a month or so and then come back to explain that it was just an elaborate prank – trust me, your bosses will absolutely get the joke and laugh until they cry. Maybe.
Get around Busabout's extensive list of trips here – you get to travel across Europe at your own pace, when and where you want and you don't have to be stuck on a one-month trip with the same dude who won't stop pitching his totally-not-a-pyramid-scheme pyramid scheme to you.
Image: Instagram / @liampayne