If you're looking for a way to make your Fortnite opponents straight-up piss liquid frustration, there's a brand new emote available that might just do the trick.
[jwplayer ufxzSg8Y]
Unveiled on Twitter, the Llama Bell emote is literally just your character bashing the shit out of a "llama bell", or as you'd probably know it in the real world, a cowbell. You can check it out in action in the tweet below.
https://twitter.com/FortniteGame/status/1031330021300989952?ref_src=twsrc%5Etfw%7Ctwcamp%5Etweetembed%7Ctwterm%5E1031330021300989952&ref_url=https%3A%2F%2Fwww.gamespot.com%2Farticles%2Fnew-fortnite-emote-pays-homage-to-classic-snl-sket%2F1100-6461249%2F
If you're familiar with Saturday Night Live, you'll know this is a cheeky nod to the More Cowbell sketch which aired in April of 2000. Starring Will Ferrel, Christopher Walken, and Jimmy Fallon, the sketch is a fictional glimpse into the recording of Blue Öyster Cult's 1976 hit, (Don't Fear) The Reaper, which does actually feature an insane amount of cowbell. Trying hard to lay the track down in a recording studio, legendary producer Bruce Dickinson (played by Walken) demands more and more cowbell throughout.
"I got a fever, and the only prescription, is more cowbell," he says in the sketch.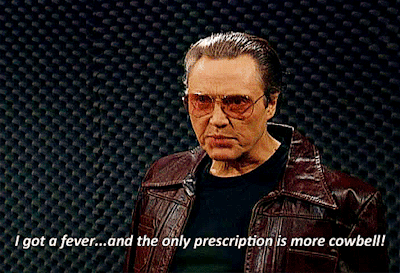 It's a damn classic, folks, and just another way Fortnite seems to be edging itself closer and closer to the real world. The game recently copped an enormous patch which introduced a new game mode and an incredibly powerful new gun called the Heavy Sniper.
If anyone llama bells me I'll lose my fucking mind. Do not do it.