Meghan Markle's been serving some serious ~lewks~ on her Australian tour. Whether she's reppin' some true blue designers, or breaking a load of royal style rules, the Duchess has been turning heads for all the right reasons lately.
But for the Duchess of Sussex's latest public appearance, she experienced a very relatable wardrobe malfunction that'll make every person who's ever worn a dress want to curl up into a tiny ball.
The occasion started out promising enough, with Meghan departing the plane in Tonga alongside Prince Harry looking like pure fire.
The Duchess wore a long-sleeved, red Self-Portrait dress that's same colour as the Tongan flag – noice.
The piece, complete with a pleated skirt, was finished with subtle floral detailing on the bodice.
Meghan paired the scarlet look with contrasting black accessories, including a Christian Dior clutch and matching Manolo Blahnik pumps.
All good, right? Actually, WRONG.
Internet sleuths were quick to pick up on a kinda major wardrobe malfunction Meghan had without even noticing. And before you ask, yes, I'm kinda prone to hyperbole – deal with it.
On closer inspection, it turns out Meghan's dress actually had a TAG still hanging off the bottom of the hem.
FFS. HOW on earth did someone  let this sweet, sweet angel step out wearing a dress that still HAD TAGS ON IT?!?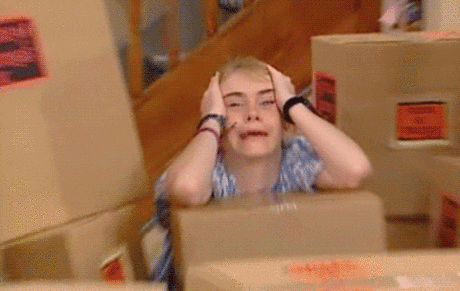 I 3000% blame the stylist for this one. Like, you have one job: make sure the Duchess looks flawless in her outfit, kay?
Meg's doing her part by stepping out with a smile that makes me want to donate my life savings to charity as she's paraded around the country with a chockablock itinerary. Let's not forget she's doing it ALL while pregnant – props to her.
In short, she's got enough on her plate right now without having to worry about some pesky tags. Which is why she's got a stylist.
Regardless, Meghan carries on with grace and poise, looking absolutely heavenly 'cos she's next-level.
Image: Getty Images / [Samir Hussein]