Day Four of MBFWA brought with it one of the most anticipated debut runway shows of the week: Emma Mulholland's "Spring Break" collection, and another showcase that had drawn a bit of buzz was Phoenix Keating, whose high-concept avant design have earned him a high profile endorsement from Lady Gaga (jury's still out as to whether that actually bodes well for him as far as interest from the clothes-buying community at large is concerned). Take a look at all the action from Day Four with images caught on the Sony Xperia Z smartphone.
After a morning of work I made it to Carriageworks just in time to be the only person in line for the Phoenix Keating show who was not a VIP. #foreveralone
The collection was presented as an installation where statue still models showcased an interesting melting pot of influences from contemporary American history, including 1940s film noir, the wild west and a dash of sci-fi. With the tightly belted twill pencil skirts, scarves tied at the neck and exaggerated seams triangulating the bust, I half expected one of the girls to lean forward and say "hiya slim" while lighting a cigarette before poisoning someone's complimentary Acqua Panna [brand shout out!!].
A few pieces came in foil-like crinkly silver reminiscent of a home-made headpiece crafted by paranoid conspiracy theorists in '60s America. There was a silver dress with cocoon-like structured sleeves and fringing along the hemline and down the sleeves plus steel-tipped bolo ties – a modern update on cowgirl cool. Keating's ideas are his strength. The execution of these ideas aren't quite as impressive. There were some awkward lines where seams buckled or collapsed where they shouldn't have, and there were a few lose threads dangling from skirts. Patternmaking and sewing issues aside, it's great to see designers present a strong concept that refuses to bow to what's 'trendy'.
Brisbane designer Haryono Setiadi presented a collection of luxe athletica in mostly white and black, and a recurring molecular digital print. Structured shoulders and sleeves gave volume to Setiadi's fine tailoring and the minimalist silhouettes gave the clothes masculine strength. Leather details added a little edge to the otherwise clean monochrome pieces, with a great black t-shirt with leather sleeves, and a white dress with a square-framed open back was pretty. There was also an amazing soundtrack of glitchy electronica composed by the designer himself. These are modern architectural clothes by a promising young designer.
Pedestrian has been championing the pro-rave vision of young Sydney designer
Emma Mulholland
since her first collection came out, so we were super eager to see what kind of zeitgeisty neon mayhem would result from her
latest muse
– the vacation/Spring break movies of the 1980s and '90s.
All eyes on Emma Mulholland:

The room was packed. Packed in like sardines. In fact I'm pretty sure the PR Team for Emma Mulholland might have sent more invitations than there were seats because there were a few people among the horde milling around before the show who were muttering unhappily about getting stiffed on promised tickets. I eventually made it inside where an accordian-like surfboard sculpture (personally constructed by the show's stylist Mark Vassallo, apparently) gleamed ominously under blacklight.
The show kicked off in full rave-mode: blue light flashed as Julia Nobis walked out in a pair of black trunks covered in fluoro squiggles and a black tee emblazoned with hypercolour palm trees and snowflakes rendered in sequins. If '90s vaycay was the primary inspiration of the collection, Emma completely nailed the kitschy 'souvenir' aesthetic. Polyester-look tracksuits came out in a vivid fishscale print, boardshorts printed in crazy colours and sleeveless tees embroidered with Orca iron-ons. Holographic backpacks in orange and green nylon had shark fins attached to the top and the jewellery (including fantastic silver pieces designer by Ryan Storer) was fantastic. The hair was spot on – punk-rave fluoro strips swept across the forehead – and the makeup was great. The collection really represented the "right now" sensibility that has given Emma Mulholland such a cult following and I'm sure "Spring Break" will satisfy her fans – as long as she doesn't go crazy on the price point.
[Disclaimer: I'm sorry the pics don't do the show justice. I was in a tricky position near the catwalk entrance.]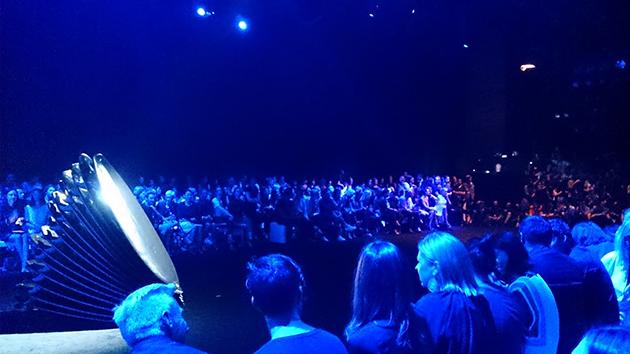 Hypercolour in motion:

A super quick exit after taking a bow:
Highlight of day: Harassing Emma Mulholland's male model troupe after her show. The guy with pink hair on the far-right is one of our 
favourite faces of MBFWA
. His name is Claes, he is from Sweden and he's a Taurus.
Shakuhachi closed day four with a collection of fresh, youthful high street options inspired by retro-Futurist popculture touchstone, Barbarella. The Sixties influence could be picked in the silhouettes; Cute shift mini-dresses, cropped bustiers in sheeny textured whites and a seriously fantastic cropped coat blooming with tapestry-look roses. Different floral prints were experimented with across a number of textures and were paired with thigh high open toe gogo boots or chunky sandals over silver socks. Before Fashion Week Shakuhachi designer Jessie White told us "It's a little space-age grunge, a
little floral fantasy…is that really vague?" It was, but now I think we've got it.
Final walk through led by Julia Nobis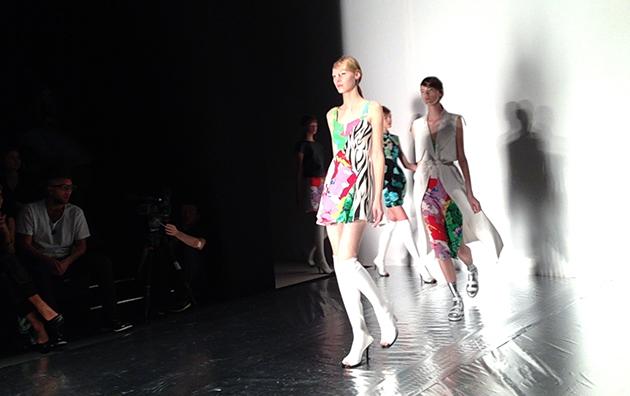 Floral show notes
The Sixties meets futurism at Shakuhachi
White glow
For more Fashion Week coverage hit our MBFWA daily photo diaries: