Sun, sand, steak and sport: just some of the things that make Australia so god damn STRAYAN. For a relatively small (in population) country, Aus is stacked with reeeeally good athletes, some of whom take their sporting prowess to the world stage and make us all feel like proud parents. So what better way to recognise these genetic freaks by awarding the best of the best?
If you haven't already heard (oh, the shame), PEDESTRIAN.TV, together with our pals Swarovski, have decided to recognise the best moments in Australian pop culture – including those sporting moments that made us legitimately scream, by throwing The Inaugural 'PEZZYS'.
They're basically a swanky-as-heaven awards night where we'll be giving the much-deserved love to things that went on throughout 2017. There are eight categories (each with five nominees for a PEZZY) that'll share the spotlight during the evening which, when viewed collectively, form quite the comprehensive cross-section of the happenings in Australian pop culture not too long ago.
It's on Feb 28th, so we need your help to make sure the right person takes home the gong. Without further ado, here's who we're nominating for the "Achievement In Sports Ball" category.
CRICKET AUS FINALLY GAVE ELITE FEMALE CRICKETERS A PAY RISE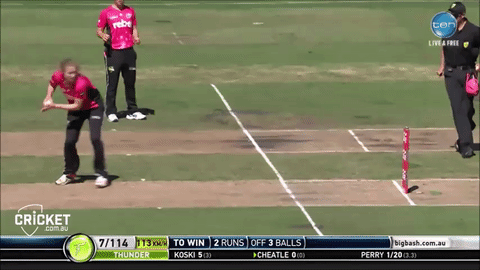 In September, the powers that be in Aussie cricket – Cricket Australia and the Australian Cricketers Association – finally resolved their long-running pay dispute and agreed to a history-making deal which saw elite female cricketers finally included in the Player Payments Pool. In the deal that will roll out over five years, female players scored an 80.2 per cent pay rise, from $7.5 million to $55.2 million. It's the biggest pay rise in women's sporting history in Australia, and means the base rate for international women's cricketers has jumped from $40,000 to $72,076 in the first year and will go up again 119 per cent in the final year to $87,609. Ladies making bank, FINALLY.
MATILDAS GUN SAM KERR SHATTERED AUSTRALIAN GOAL-SCORING RECORDS
Freemantle-born Matildas striker Sam Kerr punted her way into the record books with a two-goal haul during November 26's 5-1 victory over China, becoming the first Australian to score at least one goal in six international matches in a row. The 23-year-old scored 11 goals in those six matches, because she's insanely talented like that. I mean, the girl can do somersaults, need we say more?
DUSTIN MARTIN BECAME 1ST PLAYER TO WIN BROWNLOW, AFL PREMIERSHIP & NORM SMITH MEDAL IN 1 SEASON
Richmond Tigers player Dustin Martin just had one of those dream runs in 2017: he took home his first Brownlow Medal after scoring a record 36 votes, his team spectacularly won the 2017 AFL premiership for the first time in 37 years, and his on-field performance that day (2 goals, 2 behinds, 28 disposals) earned him the Norm Smith Medal. The 26-year-old the first player in history to nab all three in a single season.
THE VERY 1ST SEASON OF AFLW WAS AN A+ FOOTY TRIUMPH
2017 marked the launch season of AFLW, which saw some of Australia's most talented female footy players from eight teams (Adelaide, Brisbane, Carlton, Collingwood, Fremantle, Greater Western Sydney, Melbourne and the Western Bulldogs) play in a seven-round competition which kicked off with a Carlton v Collingwood stoush at Ikon Park in front of 65,000 people and ended with Adelaide taking out the inaugural Grand Final over minor premiers Brisbane. With thousands of fans turning up to see great footy over the two-month season and six more teams joining the comp by 2020, AFLW is only gonna get bigger.
YA BOY BEN SIMMONS SMASHED HIS ROOKIE NBA SEASON FOR THE 76ERS
So those Aussies that do good things overseas that I mentioned earlier? Well, Ben Simmons is certainly doing this and then some in his rookie NBA season for the Philadephia 76ers. Born in Melbourne and raised in Newcastle, a place that's given us huge gifts in the form of Silverchair, Jennifer Hawkins, and me (no I'm not biased at all about any of this, btw), Simmo has delivered five triple-doubles and is currently averaging nearly 17 points, 8 rebounds and 7 assists a game. For those not versed in NBA lingo, that's really very nice and good for a 21-year-old playing his first season on the big stage.
It's all happening in this fit and healthy category. Vote for your fave sporting goodness below.
[ptv_quiz quiz_id="674015″]