Now unless you're reading this in, I don't know… Portugal, quick reminder illicit recreational drugs are just that, illicit, and P.TV does not condone breaking the law. K?
That being said get a load of these ding dangs reportedy flooding Europe at the moment which feature the hideous, orange facade of none other than President of the United States and fetid sack of turds Donald Trump. Fkn lol right?
The Daily Star
 reports that
UK
streets are being flooded with these new pills shaped like Trump's grotesque fucking head, supposedly produced in
Amsterdam
with a not-at-all-small amount of
MDMA
that one user notes "
will blow your head off
".
The Star's journos apparently went deep into the ~dark web~ to find out info on the belter eccies, finding one seller describing them as:

"Quality orange Donald Trump tablets. Very nice press, really detailed. Comes in the actual shape of the head of the president of the USA."

The Trumped up disco biscuits reportedly go for around 8 pounds or $13 AUD, with an "underworld source" (presumably not 
Kate Beckinsale
), telling
The Star
that the pills are set to sell like "hot cakes" in a market flooded with dingers, where the coolest shaped pill often becomes a power seller.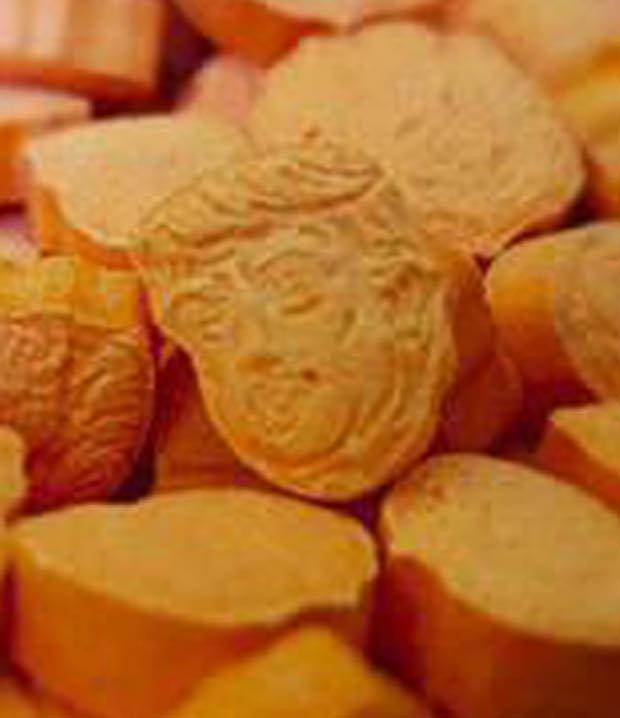 A close-up of the pills via The Sun/Ian Millar.
Well there ya go. Even one of the world's most hated men can boost your illegal drug trade, just by whacking his mug on some MDMA. What a world.
Image: Twitter / Steve Rolles / Getty.