If you've ever looked at your ice cream and then down to the very hungry, pleading eyes at your side and said "not for puppies, this will make you sick", I'm happy to inform you that there's now a special gelato flav that you can actually share with your beloved pooch.
Gelatissimo has announced a limited edition flavour that it has developed, using Very Real Science, to make sure it's edible for both canines and their humans.
The super-tasty Pawesome Peanut Butter is the first pup-friendly gelato from the dessert wizards, so you can share a cone (or a full tub) with your favourite four-legged mate. It'll be in shops from Friday May 3, just in time for a wild Friday night in watching movies and eating ice cream.
It's also totally vegan, so every animal-lover can enjoy it as well. You bloody beauty.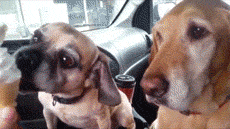 Of course, because this is an icy treat made with peanuts (and also some soy) the gelato probably isn't going to be great for humans or puppies with allergies to nuts and/or soy, and the Gelatissimo team says you probably shouldn't be feeding it to pups with a history of pancreatitis.
BUT if you want to really go all-out, the gelato giants are throwing a very fancy pup-friendly brunch in Sydney to celebrate the scientific success of creating a dessert that the whole family (both furry and not) can enjoy.
On May 18, you can trot along to Bodhi at Cook & Phillip Park and enjoy a range of delicious vegan yums – and yr pup will be treated to dog-friendly yums too. You can cop tickets for that Big Morning Out over here, before heading out for morning walkies.