The best time of the year is rapidly approaching, not quite December 25th as a whole but that golden few hours after absolutely gorging yourself on Christmas lunch. The fine art of immediately crawling onto the couch to nap off the fact you've been scoffing down treaties and drinking champagne and Crownies since 8am. As you're slipping into a Chrissy coma, what's on TV might not be retained in your brain at all but it's soothing and perfect for the situation you've found yourself in.
If you simply cannot watch yet another viewing of Love, Actually, here are some alternatives that will make your brain go brrrr.
10 Things To Tune Out To After A Hefty Christmas Lunch
The Die Hard movies being Christmas films is something that will be argued until the end of time. And let's be real, who doesn't like a bit of Bruce Willis all guns akimbo while you're dozing off on the couch?
I came across Jelle's Marble Runs through the annual ESPN Ocho and suddenly found myself losing HOURS watching clips of marbles absolutely hooning down a tiny hillside rally track. The commentary? Incredible. The competition? Second to none. The fact I've put on Jelle's Marble Runs when I'm drunk with mates and end up yelling at the TV? Priceless.
I'll admit, National Lampoon's films absolutely missed me personally (apart from Van Wilder, which I only just learned was a National Lampoon offering) but my workmate Chris swears by watching it every year.
"It's John Hughes dropping wall-to-wall great jokes and this deeply relatable good-guy-just-wants-the-best-for-his-loved-ones-but-the-world-hates-him story," Chris said.
"Plus Chevy Chase and Randy Quaid before they became huge assholes (or in Chase's case, a bigger asshole)."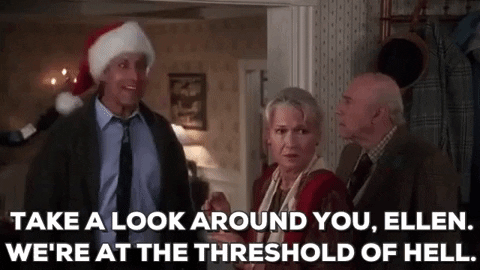 Vine Compilations
Ah, Vine. You walked so TikTok could run, and we did not deserve you one ounce. The reason why I mutter "oh my god they were ROOMMATES" and "I smell like beeeeef" on the reg.
The only reminder of what was one of the greatest comedy platforms is all the absurd compilations on YouTube that mush them all together and I regularly end up watching in bed way past my bedtime.
Possibly one of the best Christmas movies to date, do not come for me on this. Also, you can sit and point at the screen and ask "was the Grink there?" over and over.
[me telling my story how I survived a plane crash and lived on a deserted island for a year] it was crazy
[friend who once got a text from me where I accidentally called the grinch the grink] was the grink there?

— brent (@murrman5) October 1, 2019
Aunty Donna's Christmas Pud
Sure, it might only be a three-minute video but let this one video be the gateway to you watching a whole mess of Aunty Donna's back catalogue and then introducing your entire extended family to the entire Aunty Donna's Big Ol' House of Fun.
Look, sure, the annual Big Fat Quiz hits us on Boxing Day every year, but what better way to prepare yourself for another full couple of hours of Noel Fielding and Richard Ayoade being absolute menaces to Jimmy Carr than by watching him do exactly that in years past?
A legitimately-good queer Hallmark Christmas movie? Dan Levy in a queer Hallmark Christmas movie?? Sign me the fuck up, and let me watch on repeat all holidays.
It might have only been released last year but I can assure you it's going to get a hell of a run on the 25th this year. We simply have no choice but to stan for time eternal.
Michael Bublé is in it, therefore it is a Christmas Movie. Sorry, I don't make the rules, I simply enforce them.
It's December, hornbags. You know what that means. #KKQChristmas content and OF COURSE all the love for @michaelbuble. What a #hunkospunk pic.twitter.com/pLDVgXCp8V

— Kath & Kim Quotes (@KathKimQuotes) December 5, 2018
Sure, The Santa Clause is essential viewing for the holiday season but that perfect chasm of time where you're fucken stuffed and simply need to stare at a TV and watch something utterly mindless for a couple of hours before you do it all again? The third film in that Tim Allen franchise is ideal.
Happy viewing while you digest Christmas lunch, and don't forget to leave room for dessert.
Image: NBC / Friends