It's the most wonderful time of the year, and no I don't mean the festive season. The drag queens vying for the crown of RuPaul's Drag Race Season 13 have been ru-vealed, so we can collectively check out their charisma, uniqueness, nerve and talent before the season kicks off in the new year. We're at the 13th season of Drag Race here, squirrel friends, can you believe? Can I get a halleloo?
Reigning queen Jaida Essence Hall has returned, clutching crown and sceptre, to usher in the new queens for the 13th (!!!) iteration of the biggest drag competition in the world, and hun, the talent is absolutely jumping out here.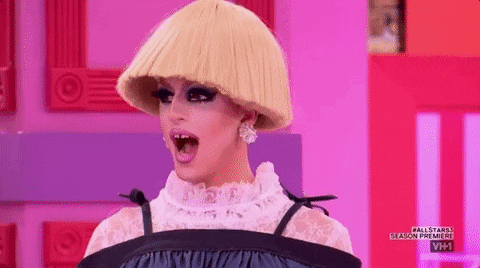 With queens coming in from right across the United States Of Ru-merica for season 13 of Drag Race, we're being absolutely treated to some really fucking polished queens this year.
Naturally, the New York scene is coming through with a total of four queens coming from that very busy and competitive scene. Atlanta, Chicago, and Los Angeles are set to be represented by two (2) goirlses each, and drag communities in Minneapolis, Phoenix, and Las Vegas will cop some representation in season 13, too.
Oh, and there's at least one queen who already gives me big Jimbo energies already. I'm so here for it, hunties.
The Drag Race Season 13 trailer is already here, feeling some true pastel positive princess oats with this season's aesthetic, and it's got me truly gagged for this race to begin.
Wow, I'm so glad RuPaul came in from her fracking farm to frock up for the shoot. Thank you, mama.
Without further ado, here are your queens vying for the crown in the incoming season 13 of RuPaul's Drag Race.
Please Welcome To The Stage, The RuPaul's Drag Race Season 13 Queens
Denali – Chicago, Illinois
Elliott with 2 Ts – Las Vegas, Nevada
Gottmik – Los Angeles, California
Joey Jay – Phoenix, Arizona
Kamora Hall – Chicago, Illinois
Kandy Muse – New York, New York
LaLa Ri – Atlanta, Georgia
Olivia Lux – New York, NY
Rosé – New York, NY
Symone – Los Angeles, CA
Tamisha Iman – Atlanta, GA
Tina Burner – New York, NY
Utica Queen – Minneapolis, Minnesota
Gawd we have some serious competition here, honey. I can't wait to see how this season of Drag Race turns out, and who does and does not fuck. It. Up.
RuPaul's Drag Race season 13 kicks off on Stan from January 2, 2021, with Untucked following every episode (where the real tea is spilled). Perfect viewing for your multiple-day hangover after New Years, if you ask me.
Image: Stan / RuPaul's Drag Race