Definitely not the first to say it but thank GOD the team from American Horror Story have decided to actually marry together two of the more iconic storylines for the upcoming eighth season. I have craved this for a long time, folks.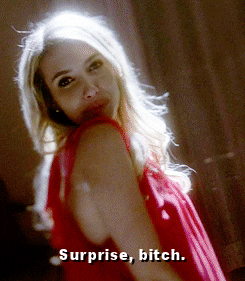 The show's creator, Ryan Murphy, took to Twitter earlier today to confirm that the crossover season between Murder House (season one) and Coven (season three) is happening this year, meaning that all we have to do is rewatch the original seasons over the next couple of months before the new season lands in September. Grab the popcorn and settle in to suddenly remember just *who* the bad man in the gimp suit is in Murder House.
The Coven/Murder House AHS crossover season won't be happening next year…because it's happening THIS YEAR. AHS #8 WITCHES RULE THIS SEPTEMBER

— Ryan Murphy (@MrRPMurphy) June 14, 2018
I know, first thoughts are: "Oh hell shitting YES give this to me immediately. Give it. To me. Right in my eyeholes, I need it." and then the second thought is something along the lines of "Oh, wait, how the fuck are they going to make this work??" because it's pretty widely known that the whole schtick about AHS is that they use roughly the same cast for every season, but they all play different characters.
Murphy has previously confirmed that three of the series' mainstays are back for season eight – Sarah Paulson, Kathy Bates, and Evan Peters. Considering two of them (Paulson and Peters) appeared in both Murder House and Coven, it'll be interesting to see which of these characters will be reprised for the upcoming, unnamed crossover.
Though in Murder House and Coven, Evans plays a ghost and a revived dead guy that's been patched together like a handsome Frankenstein's monster, and Paulson plays a psychic medium and the Supreme witch, respectively, so it'll be uh, interesting, to see how each of the actors are brought into season eight. Bates came into the AHS family by playing a deeply racist, slave-torturing woman from the 1800s in Coven, but she also was very much dead by the end of that season so who knows!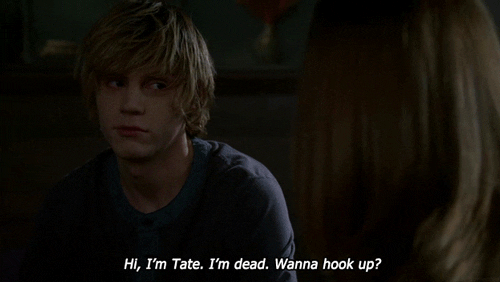 As reported by The Hollywood Reporter, other cast members that have been confirmed for season eight include Cheyenne Jackson, Billy Eichner, Adina Porter, Leslie Grossman, and a new inclusion to the AHS family tree: Joan Collins.
There's no set date for release yet, but we know it'll be landing in September. We'll keep ya updated on any new info that the normally-secretive Murphy manages to let slip.
Image: FX