After being in major cities across Australia for the last three years, making hangover-curing meals and even more removed process, Deliveroo are expanding their horizons once again. Heads up Hobart, Cairns, and Newcastle, it's time to really lean into the "no pants necessary" life of delivered food.
Over the next few months, Deliveroo will be working on getting all your faves onto the app for ordering – but if you're a keen bean, there's a limited range of things on there like Dumpling Studio and NOA in Cairns, to Medici and Burger Got Soul in Hobart, for you to choose from ASAP.
It's also the first time the bike-powered foodies have explored Tassie, so there's a bit of trivia for you.
If you've got a keen eye, you'll also spot that Jenny Craig (???) is available to order in Hobart which boggles the mind. Is some mum in a house in Sandy Bay running a Jenny Craig meal plan black market trade out of the back rumpus room or something? What in ever-loving Christ is going on down there?
Those folks who have been looking at the delivery zones in Sydney and Melbourne and cursing the fact that their house is just outside of the zone (believe me, I've had pizza delivered to a local park before), you'll be stoked to know that the boundaries are expanding there as well.
Suburbs in Sydney like Five Dock, Bankstown, Campsie, Hornsby, and Narrabeen are getting the bike-delivered love, and so are spots in Melbs like Doncaster, Box Hill, Ferntree Gully, and Heidelberg. Up in Queensland, Maroochydore on the Sunshine Coast is also copping the expanded service, too.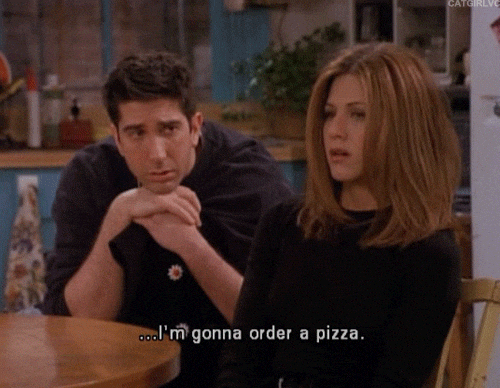 So get your Friday night plans and fling 'em out the window, you've got a hot date with the couch and a shitload of takeout food.
Image: Warner Bros. Television