Pedestrian.TV has teamed up with Sony Pictures to give you tickets to see Jennifer Lawrence's hilarious new comedy 'No Hard Feelings" releasing in cinemas on June 22.
Folks, I'm gonna be honest with you – I miss comedies in cinemas. Comedies were always great theatre experiences because you could always rely on contagious laughter to light up the vibes of the room. Whether it's a date and you need a guaranteed good time, or hanging out with friends, edgy comedies were always surefire bets to leave you with something to talk about after. And if I'm not mistaken, this new film starring Jennifer Lawrence is shaping up to bring edgy comedies back to the big screen.
No Hard Feelings, is directed by Gene Stupnitsky, the fella behind Good Boys who also co-wrote Bad Teacher. The film also stars Andrew Barth Feldman, Matthew Broderick, Laura Benanti and Hasan Minhaj.
WIN: Tell Us Yr Most Awks First Date Story & We May Sling Ya Tix To The 'No Hard Feelings' Premiere
On the brink of losing her childhood home, Maddie (Lawrence), an Uber driver that's lost her car, finds an intriguing job listing that might save her. After realising 19-year-old Percy, (Feldman) is hopeless around women, his wealthy helicopter parents decide to hire someone to "date" Percy before he leaves for college. And like all 19-year-old boys, the rizz is non-existent.
No Hard Feelings is coming to cinemas on June 22nd and our mates at Sony Pictures are giving away free tickets to the premiere of the film taking place on Tuesday, June 20!! All ya have to do is tell us about the most awkward date you've been on.
There's no denying we've all had some absolute cringe experiences with dating and with cuffing season officially being over, I'm sure we all have our war stories about serving on the front lines of Hinge that we've been itching to share.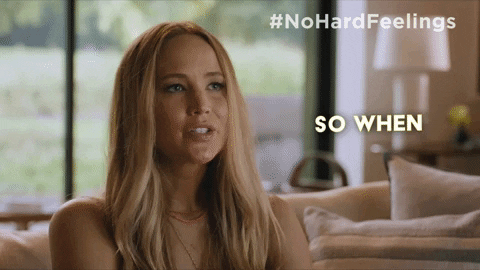 2023 really is looking to be the revival of Jennifer Lawrence I must say. After taking a break from movies for what feels like ages, it's great she's returning to the screen and showing off that witty down-to-earth charm that made the internet fall in love with her.
It's been a while since we've seen an edgy comedy with a female lead as well, and I'm excited that the film won't be focusing on making it about Jennifer Lawrence chasing after a man. Instead, this snappy film lets JLaw show the strengths of femininity, embracing our individual sex appeal, and pepper spray.
If you're a big fan of belly-hurting comedies like Easy A, Good Boys and Superbad, you're sure to love this one.
Keen to check out more about the film? Click here to read more about the film and save the date.
©2023 CTMG. All Rights Reserved.