We've teamed up with Myer and the newly launched brand at Myer ONLY to get you and a m8 over to Denmark. Keep reading to find out how you can win the trip of a lifetime.
---
Danish
capital
Copenhagen
is known for being the happiest and coolest kid on the Nordic block. And hell, If it's good enough for our own
Princess Mary
then it's damn-well good enough for us. Whether you've got a
Euro
Trip coming up of are just getting a feel for which part of the big blue sphere you wanna hit up next, then check out Copenhagen's top picks below. 
PLACES TO STUFF YOUR FACE
Kødbyens Fiskebar
Flæsketorvet 100
1711 København V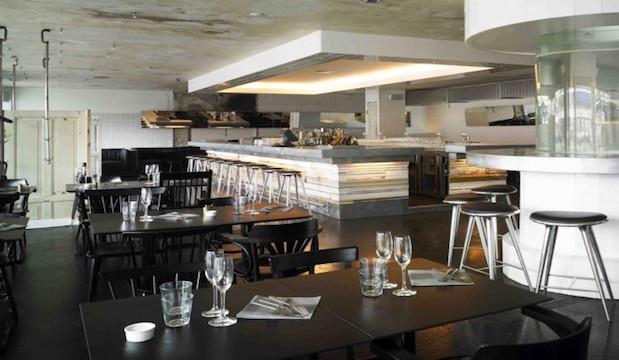 Photo: Simonseeks.com.
Open every night til' midnight and Fri / Sat nights til' 2am, this industrial-designed fish bar is passionate about catching local goodies from their own waters.
GRØD

Jægersborggade 50, kld. tv. 2200 København N

Photo: Facebook / GRØD. 

Grab brekky or lunch here for some clean eating because we all need a healthy refuel during our travels. It's very Danish and I can recommend the quinoa porridge with  freeze-dried berries before shitting on all your good work with booze later on. It's all about balance, right?
Warpigs
Flæsketorvet 25-37, 1711 København V



Photo: Facebook / WarPigs Brewpub.
Find authentic Texan BBQ and American-Danish brews at the pub brought to you by US brewery 3Floyds and Danish brewer Mikeller.
Torvehallerne 
Frederiksborggade 21, 1360 København K

Photo: Facebook / Tolvehallerne.
Now this is what you call a supermarket. Here you'll find over 60 stalls selling everything from fine choccies to spices, fresh meat and fish, as well as quick bites to eat. If you like to have your lunch with a bit of atmosphere then this is the place for you (grab an open Danish sandwich – they're all the rage). If you're feeling poor, there's a bunch of samples flowing around too like the good market it is, and we've heard it's quite the destination for babe-hunting. 
WHAT'S WORTH SEEING FROM YOUR GUIDE BOOK
Nyhavn



Photo: Flickr / @Anya Lilaoonwala.
This 17th-century canal is a hotspot for anyone visiting Copenhagen, thanks in no small part to the fact that it's an A+ Insta opp. The cute coloured house situated all along it, including #20 where Hans Christian Anderson lived while writing his most iconic fairytales. 
Freetown Christiana
Photo: Getty / Soltan Frédéric.
"It's a little suburb that declared itself autonomous from Denmark so it doesn't follow any of the rules. It's kinda like the Scandinavian Nimbin." – Luke Menzies. 
Round Tower (Rundetaarn)
Købmagergade 52A, 1150 København K

Photo: Facebook / Rundetaarn.
The oldest functioning observatory in Europe will give y'all beaut views of Copenhagen, once you make it to the top that is. Might sound like a breeze at only 35-metres tall but there are no stairs – instead you'll be venturing up a spiral ramp spanning 200 metres to reach the viewing platform. As they say with hikes generally much bigger than the Round Tower, it's worth it. 
WHERE TO GET SOME SHUT-EYE
Generator Hostel
Adelgade 5, 1304 København K

Photo: Generatorhostels.com.

"I'm not usually a fan of the chains but this hostel had an awesome bar and lounge and was a great place to meet people! Also the booze and food there were good and cheap – which is massive bonus as it's super expensive in Copenhagen," – Elly Robinson.
Copenhagen Downtown
Vandkunsten 5, 1467 København K

Photo: Copenhagendowntown.com
I've been to a fair few filth hostels in my time but they appear to do it differently in Denmark – the rooms here are v. retro rather than shoe-box squalor.  "It was great, they gave you dinner and breakfast and the lobby was a bar full of other travellers/backpackers," – Luke Menzies.
Airbnb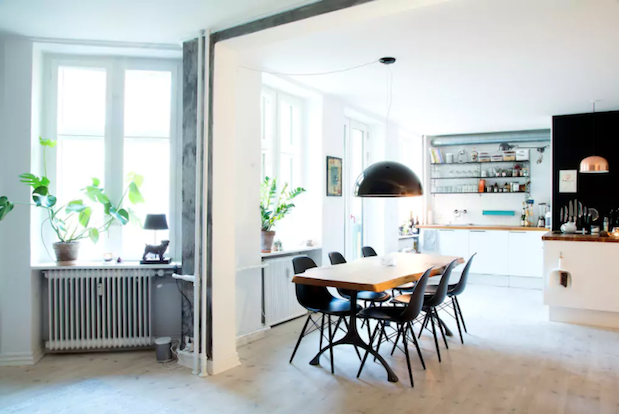 Photo: Airbnb. 
It can be hard to feel at home when you're, you know, not. But your closest bet is living like a local with an Airbnb. You know the drill: check the host's rating, reviews and location from the centre of town and then scan the pics for something chic as hell. May as well if you're in the world's design capital. 
SHOPS TO DROP $$$ IN
Strøget
City Hall Square (Rådhuspladsen) to Kongens Nytorv

Photo: Flickr / Tony Webster.

Copenhagen's shopping district is 1.1km long – one of the longest pedestrian shopping strips in all of Europe – and has all of your far-shun needs with local design and international flagships throughout. Walk the whole thing and you'll get much more than just a spontaneous buy, with plenty of the city's most beautiful sights and attractions. Expect street entertainers too, like those found at Sydney's Pitt Street Mall.
OSV Secondhand
Peder Hvitfeldts Stræde 4, 1173 København K



Photo: Facebook / OSV. Secondhand Fashion.
As you can see, this "op-shop" is nothing like the stock standard filth you come across at home. It'll be a bit pricier but it's full of 10/10 GOLD.
Around Gammel Mønt

Photo: Facebook / Storm Copenhagen.

This entire area is worth walking around for the boutiques alone – incl. Euro lifestyle/fashion store Storm (Store Regnegade 1).
Now that we've gotten you well and truly keen for the place, it'd be a good time to tell you that we're giving away 2 x tickets to Copenhagen. Enter below for your chance to win, thanks to our mates at Myer and ONLY.
WIN A TRIP FOR YOU AND A FRIEND TO DENMARK + A $500 WARDROBE FROM ONLY THANKS TO MISS SHOP MYER

Photo: Flickr.