Excuse me, but did you enjoy the film The Grand Budapest Hotel? What about The Best Exotic Marigold Hotel? You likey The Shining? If so, chances are you bloody love a good hotel. And fair enough – a good hotel reminds you why domestic living is extraordinary, showcases the bliss to be found in mundane tasks like sitting at a desk to write a note with a pencil, and confirms your mother's insistence that a freshly made bed is important.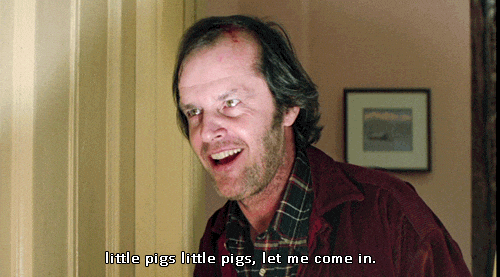 Listen, if you're keen on having maybe the coolest hotel experience of your life, wrap your eyeballs around this good news. For the first time ever, Airbnb has put up an entire hotel as a single listing available on their global travel platform. So, if you and a bunch of mates have a spare $15k between you, The Little Albion Guest House in Surry Hills, Sydney, could be ALL YOURS for the night!
But of course, I am not naïve, I understand that $15,000 is a buttload of money to spend for one night in what is essentially a large house with make-up on. But really, what you're paying for are the possibilities. And the possibilities, my friend, are endless. So really, this is a pretty good deal.
For starters, the place has 35 bedrooms – six with queen beds, the remaining with kings. Now I'm not telling you what to do in a bed you've paid for, but if I were you I would throw a massive pyjama party with 60 of my chillest friends and make interconnected blanket forts and tunnels between rooms.
Or the fact that every room has a smart TV in it means you could have the best ever 20-hour, multi-room, multi-franchise movie marathon party.
And then there's the special features. So, there are two designated event spaces for big gatherings, then there's the 24-hour self-serve honour bar with characteristic tiny liquor bottles and adjoining sunken lounge area, and then TO LITERALLY TOP IT ALL OFF there's a rooftop garden complete with lounge set up and outdoor shower…in case this goddamn gorgeous hotel hasn't made you wet enough. Yeah, I went there.
A hotel like this can host the best game of laser tag you've ever played. You could put Jay Gatsby to shame with the perfect 1920s theme party. If you take Halloween as seriously as I do, this place has got to be where you have your next murder mystery night. The building literally used to be a convent and prides itself on the original heritage red brick and gothic design. That's some spoopy-ass ghost shit, right there.
Basically, this is one of those rare moments where Capitalism has done good – an experience that would ordinarily be unattainable has become possible. The Little Albion Guest House in Surry Hills is looking like a snack, and just like with their honour bar, you should go ahead and treat yourself.