Picture this.
It's 3PM on a rainy Monday in Melbourne.
You're two hours away from finishing work and time is moving at a pace so slow you worry you may have crossed over to an alternate universe created by a God who gets off on watching you literally almost die from boredom.
To make matters worse, you're well dusty from the weekend and motivation levels to add another cell to the spreadsheet are at an all-time low.
You decide you must book a holiday right this minute. A holiday has been on your mind a little while, but you have some reservations.
You'd like to go somewhere tropical.
Not only because you're seeking sun, sand and Sex On The Beach (the drink), but because you want to update your Instagram with a fire bikini shot. It's been a long winter, you see, and the followers deserve a glimpse 'n zoom at the rig you've been thrashing yourself at F45 for.
But you know that if you choose to go to one of the usual Instaworthy island destinations, be it Boracay, Bora Bora or Bali, there's a fair chance a lobster-red kid with beaded braids might drop into the background of your beach shot.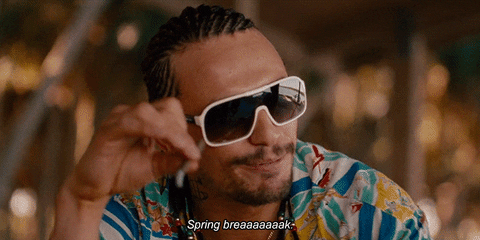 A digitally-distressing disaster.
Thankfully, you can now rent an entire luxury private island off the coast of Fiji for the sole intent of capturing the perfect shot.
This is not a drill.
Fuji Island is a 2-hectare private paradise that's available to exclusively rent for USD$2,200 per night for two guests. Past guests include Paris Hilton and Pink, and future guests could include you… provided you've got that kinda cash to splash (in which case my adoption papers are en route to your current address).
It's got everything you could imagine you'd need to get a good shot and then some.
Exclusive use of the island is a given, meaning you can run around in the nud with zero consequences (though a shot of your nipple in freedom would no doubt be swiftly removed from the 'gram).
Nine professional Fuji Island staff are at your beck and call, shaking up piña coladas and plating up gourmet meals. Once you've racked up a Camera Roll full of belfies, you can retire to the luxury villa accommodation.
A Boyfriend Of Instagram is not included in the price, but members of staff who'll tell you to arch your back a bit more are.
If you couldn't guess by the island's name, it's the brainchild of camera brand Fujifilm. They've opened this tropical nirvana for a limited time as a way to celebrate the release of their brand new product, the X-T3.
We were lucky enough to be one of the select 'n blessed few to experience the island first hand – an experience we (naturally) storied the shit out of.
To learn more, and to book your very own sojourn, check out the website here.
Sure, we're may be living in the year 2018, where climate change, global economic unrest and a temper-tantruming toddler of a President whose loose lips threaten to blow up the whole damn ship.
But at least now there is a glimmer of hope for a more beautiful grid world.
At least now, one person won't have to endure their paradise-based content being compromised by a rogue Dad in crocs hunting for shells.
At least now, even if just for an ephemeral moment, one person's post is perfect.
And we can like, comment and subscribe to that.
Get inspired to plan your next trip – read the latest in travel news, travel deals and cheap flights.
Image: Supplied