PEDESTRIAN.TV has partnered with Budget to help you own the weekend.
Of all the Aussie states and territories, I reckon Victoria geeks out the hardest on the weather. I mean, Melbourne has that whole 'four seasons in one day' gag that never dies, newscasters get off on stories of mini-tornadoes, and dad's everywhere binge watch the BOM.
You might think this would make getting outside borderline impossible but no, little dirtbag, you just need to know where and when to pitch ya tent. If you're craving a Victorian camping trip (excellent choice FYI) here is our definitive, but don't question us too hard, list of the state's bestest camp spots based on the season: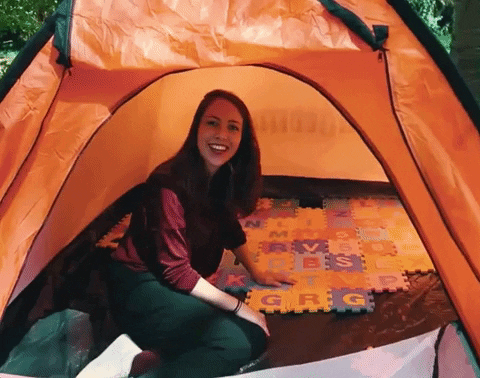 Summer
Okay, it's hot. Like really hot. Like, I'm on fire hot. So the aim of the game here is to camp as close as humanly possible to some body of water. We want refreshment. We want skinny dipping. We want less time in the car (unless it's a super comfy ride from Budget, TBH) and more time outside.
We want to book a site at Wilson's Promontory and relaxo mucho down at the shores of Tidal River. We want to pull up a secluded stretch of sand at Gippsland's Ninety Mile Beach and bbq our hearts out. We wanna wind our way down the Great Ocean Road and pull off at Wye River and pitch a tent where the breeze is cool.
There are a ton of epic summer camping spots in Victoria but nothing beats the beach. Whether you want to rough it (you can hike in with just your pack at the Prom) or you'd prefer those communal toilet vibes (grab a foreshore spot at a campground), hot weather doesn't have to mean staying inside with the air con pumping.
View this post on Instagram
Autumn
Oh the leaves are turning, the weather is cooling, and we can actually fathom doing a little bit of exercise without imploding in a ball of flames. Say hello to our friend Autumn, folks.
What we want out of autumn camping is muy bueno vistas (I'm talking Instagram-friendly ridgelines and mountain tops) so the Cathedral Ranges and Grampians National Park are your best bets.
The Cathedrals are just two hours out of Melbourne city, making it an excellent weekender option. You can hike Jawbone Peak and then bunker down for the night, just BYO beanie. Otherwise if you're a rock climber the Grampians have some stellar dirtbagging options and the hiking is first class. Look out new profile pic.
View this post on Instagram
Winter
This is where you want seriously outdoor but still cosy vibes. Personally, I would like a camp spot that also has access to local red wine en route so that dinner feels really spesh tonight. The okay to have a fire is also mandatory for winter winter camping.
The answer? The High Country, King Valley to be exact. Or, if you wanna get proper wintery consider heading up to the Snowy River for, well… snow. Depends how brave you're feeling.
Either way it's going to be cold, but hell, anywhere in Victoria during winter is going to be cold. But at least camping in either of these two destinations will have you closeted within a forest underneath a blanket of stars instead of shivering under your crappy doona in a damp townhouse. Bring a ton of snacks, a deck of cards and eat your bodyweight in marshmallow over the fire. 
View this post on Instagram
Spring
What's that? Sunshine? Thank god for the defrost button. The thaw is real. Let's celebrate the turn of the season by embracing the full beauty of the outdoors sans rain jacket. Because spring has sprung and we're looking for good nature times.
I enjoy a spring camping trip to Bright, personally. It's ridiculously pretty, there is a river and you can cycle everywhere. Like, everywhere. The food is also really good in town if you're tired of camp stove tacos and feel like a wholesome country pub meal.
Otherwise the Howqua Valley is a hidden Victorian gem. Sheepyard Flat has gotta be on the best campsites going around, set just outside of Mansfield. If you're a fisherman (or woman) the fishing is pretty bloody good around these parts so BYO waders if you're that way inclined. Otherwise just soak in all the spring goodness.
View this post on Instagram
So whatcha waiting for? There's a Victorian camp spot out there for every season, guys. And if you need a camp mobile to get you there, check out our friends at Budget.
Image: Flickr / Ed Dunens